Enhancing teaching and learning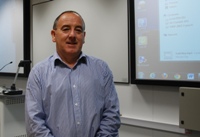 Nigel Thomas has been overseeing the refurbishment of 34 lecture theatres across the campus.
A major conference looking at developments in learning and teaching is being held at Aberystwyth University.
More than 100 delegates from across the University and the UK are spending three days considering the latest research and methodologies in the enhancement of student engagement and learning.
Why Should I Change the Way I Teach? Enhancing Student Engagement and Learning brings together academics and specialist support colleagues from across the University to consider a diverse range of subjects, all related to the central theme of how to continuously improve methods and technologies used in modern teaching.
The conference was opened on Wednesday by Professor John Grattan, Pro Vice-Chancellor for Student Experience and International.
There will be a number of sessions, break out groups and keynotes over the next three days. Topics include motivation, the use of feedback, how social media can be used in an academic context and the challenges and opportunities offered by distance learning.
The opening keynote address came from Dr Neil Morris from the University of Leeds, who explored some of the recent developments in the area of educational technology, blended learning and online learning, providing evidence of their impact and effectiveness to enhance student learning, engagement and enjoyment.
Thursday's keynote address will be from Dr Vicky Gunn of the University of Glasgow on linking research-teaching-employability; also tomorrow, Helena Linn, Assistant Director Wales and NI of the HEA (Higher Education Academy) and Head of Partnerships will be Launching the new Future Directions Theme for the Higher Education Academy in Wales: Global Graduates: Enabling Flexible Learning.
Aberystwyth University has recently undertaken a substantial investment to the University's teaching rooms with the refurbishment and redecoration of 34 lecture theatres across the campus, which will be ready in time for the new wave of students this month.
Professor Grattan said; "Investment has been in the planning stage for some time, but now it's a reality and for anyone who spends his or her time teaching, they will know just how important it is to be working in a pleasant and well equipped room. We have achieved much over the last few months, including the introduction of a raft of new technologies and innovative use of existing ones.
"This conference will allow us at the beginning of a new academic year to consider what is an absolute essential for us as a University, that of providing world class teaching for our students", he added.
You can find out more about the Learning and Teaching Conference here, http://nexus.aber.ac.uk/xwiki/bin/view/Main/TEL+Conference+2013.