Bikers welcomed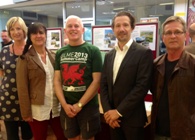 Left to Right: Julie Morgan, Aberystwyth University Conference Office Manager; Olymbia Petrou Aberystwyth University Equalities Advisor; Rory Harris from Gay and Lesbian Motorcyclists in Europe, Richard Marggraf Turley, Professor of Engagement with the Public Imagination at Aberystwyth University and Craige Watson, Aberystwyth University Security Supervisor, during the group's visit.
In August 2013 the Gay and Lesbian Motorcyclists in Europe (GLME) were welcomed to Aberystwyth University for a week's Summer Camp hosted by the UK Gay and Lesbian Bikers Motorcycle Club.
165 bikers from 12 European countries came to experience stunning coastal and mountain scenery, amazing biking roads and warm Welsh hospitality. As the GLME website points out: "Wales has so much to captivate the visitor – a land of mythological red dragons; of ruined, romantic castles; of breath-taking mountains, glittering lakes and craggy shores; of quiet, green countryside; of rich heritage, with its own ancient language; of magical poetry, song and story-telling – the list goes on…"
Aberystwyth University was chosen as a location because it was perfectly situated as the start point for biking tours all around Wales: each part of the country – North, South, East and West – can be taken in on a good day's round-trip.
Several staff ensured a warm welcome to the group, including Julie Morgan (Conference Office Manager), Craige Watson (Security Supervisor who joined the group for one of their scheduled bike tours), Richard Marggraf Turley (Professor of Engagement with the Public Imagination) and Olymbia Petrou (Equalities Advisor).
Summer Camp organiser, Roger Smith, said; "We want to thank the University for their cooperation and support in providing a suitable venue with excellent accommodation, food, service and facilities. University staff put in a brilliant effort to help make the event a success and to make us feel welcome.
"Our guests were very pleased and the feedback we have received has been universally positive. There has been much praise for the University and much appreciation for everything that Aberystwyth and Wales has to offer.
"We would like to thank local people for their friendliness and the warm welcome we received wherever we went. This applied not only at the places we visited but also in our travels. Many may have noticed our groups of up to 10 bikes with the run leader and sweep in hi-viz vests out on our tours. We are grateful to the many considerate drivers who often gave way on single-track and narrow roads, allowing us to pass, usually with a smile, a nod or a wave.
"The whole experience made a big impression on our guests and they left with good memories of a great part of the world. I'm sure many would like to return one day."
During the GLME's week-long stay the Rainbow flag – a multi-coloured flag representing gay pride, as well as a sign of diversity and inclusiveness in other cultures around the world – was raised outside the Arts Centre alongside that of the University's LGBT staff network 'Enfys Aber'. This show of solidarity and inclusivity was appreciated by the bikers group.
Richard Marggraf Turley, Professor of Engagement with the Public Imagination, commented: "Aberystwyth University has a long tradition of inclusivity. As an institution, we work hard to ensure that students and visitors alike have the opportunity not only to pursue and fulfil their ambitions, but also to enjoy themselves in a welcoming environment in our stunning setting on the west coast."
Ruth Fowler, Co-coordinator of Enfys Aber said: 'I am very proud to be co-coordinator of the network. We're doing some really great work here at Aberystwyth University which gives LGBT staff members, students and the local community the opportunity to join LGBT book clubs, films clubs, socials and most importantly, it gives LGBT members confidence to be themselves."
The Enfys Aber network has organised a fundraising event on 26th October at the Arts Centre at 8pm which will include poetry readings, live musical performances, theatrical performances and more. All proceeds raised will go towards safe shelter for Ugandan Gay Rights Activists and Russian LGBT charities. Everyone is welcome to attend this event.
Ruth comments further that: "These are really important charities which desperately need help to raise awareness of LGBT issues, so we as a network are very proud to be able to help. Aberystwyth University was recently voted highly by Stonewall in its 'Gay by Degree' league table which we're delighted with and wish to continue to expand on this in the future. The Student Union are also organising Aberystwyth's 2nd Pride on the Prom which will take place on 5th October 2013. I feel very proud to work for such an inclusive and gay friendly University, it really is brilliant!"
AU31613