Human trafficking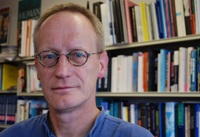 Professor Ryszard Piotrowicz
Aberystwyth University law professor Ryszard Piotrowicz is the main author of a study which is the basis for a major initiative of the Organisation for Security and Co-operation in Europe (OSCE) aimed at promoting the protection of the rights of victims of trafficking in human beings (THB).
The OSCE is one of the major human rights bodies in Europe. Every European country, along with the USA and Canada, is a member.
On Thursday 25 April, in Vienna the OSCE's Special Representative for Combating THB, Maria Grazia Giammarinaro, launched the study, which sets out and clarifies the obligation of law enforcement authorities to recognise that trafficked people are victims who should not be criminalised or punished for offences they are forced to commit by their traffickers.
Such offences can include illegal sex work and cannabis production.
The initiative, entitled 'Policy and legislative recommendations towards the effective implementation of the non-punishment provision with regard to victims of trafficking', outlines how existing international law and basic principles of criminal law require that victims of THB, who are not responsible for their acts, should be accorded full protection by the law, and not punished for their unwilling involvement in the commission of crime.
The document analyses the legal basis for this obligation but, most importantly, offers key recommendations on the application by the courts of the principle of non-punishment.
Professor Piotrowicz said: "These will be of real value to police and prosecuting authorities in addressing crimes where trafficking is involved, as well as defence lawyers and Non-Governmental Organisations representing victims.
The essence of the recommendations is that people who have been trafficked are innocent under the criminal law when they are forced to commit crimes by their traffickers, because they are subjected to severe threats that effectively deny their free will."
The policy was drafted first by Ryszard Piotrowicz then developed by him and his colleague at the OSCE, Liliana Sorrentino. The project was launched by the OSCE as part of its mandate to promote the human rights of trafficked people.
Professor Piotrowicz added: "It is hoped that the recommendations will have a real impact on the lives of victims of THB by raising awareness of the issue amongst law enforcement authorities and clarifying the scope of their duty not to prosecute or punish those who effectively have no free will because they have been held in conditions tantamount to slavery."
AU14613