Former miner's bequest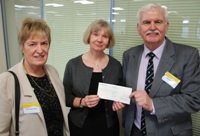 John Lewis (right), son of Rhys Lewis, and Ms Brenda Dobney (left) presenting a cheque for £10,000 to Professor April McMahon
Former miner and history teacher Rhys Lewis, who died at the age of 108 in July 2012, has bequeathed £10,000 to the University's Hugh Owen Library.
Mr Lewis graduated from Aberystwyth University in 1931 having studied History and Economic History, and gained his teacher's certificate, also at Aberystwyth, the following year.
The bequest will be used to add to the already extensive collection of books in the University's history section, and will be acknowledged by a bookplate in each acquired volume.
It is a gesture that will benefit students in as direct a fashion as academics thanks to a pioneering initiative to allow students to order books relevant to their courses, bolstering and complementing the purchases made by tutors.
Mr Lewis' bequest was presented to the University by his son, John, who is also an Aberystwyth graduate (BA Economics and Geography 1963), and his partner Ms Brenda Dobney on Wednesday 20 February.
Speaking at a reception in the University's Hugh Owen Library, John Lewis said; "Aberystwyth was formative in my father's education, he thoroughly enjoyed his time here, even though it must have been very tough for him economically. He felt that he wanted to leave something of permanence and that the best way of doing this was to support the University's library."
Professor April McMahon, Aberystwyth University's Vice-Chancellor said; "We are deeply appreciative of Mr Lewis' bequest, one which I am sure will be of great benefit to current and future generations of students. His story is truly inspirational and testament to what a university education has to offer mature students. I am particularly pleased that our history students will have the opportunity to make some recommendations for books to be purchased from this important bequest."
Born into a mining family in the Carmarthenshire village of Llangennech, Mr Lewis started working underground at 14. Determined to better himself, he attended evening classes whilst working underground as a face worker, matriculating in 1926.
During the general strike of 1926 he was secretary of his pit lodge of the South Wales Miners' Federation and the following year he entered the University College of Wales Swansea as a mature student, where he hoped to study to be a mining engineer.
In 1928 he transferred to Aberystwyth to study history and economic history. After graduating in 1931 he stayed on for a further year to complete his teachers' certificate.
He continued with his studies whilst working as a teacher in London, graduating with a BSc (Econ) from the London School of Economics in 1938 and an MSc (Econ) from the LSE in 1946, the latter whilst also undertaking Home Guard duties.
After a period teaching in Norfolk, in 1949 he was appointed as a lecturer and head of history at Easthampstead Park Training College, near Wokingham in Berkshire, which is now absorbed into Reading University. He remained there until his retirement in 1970, by which time he had become principal lecturer.
Mr Lewis married his wife Louise in 1935. She died in 1994. He is survived by his two sons, John and Peter, seven grandchildren and five great-grandchildren.
AU4613