Celebrating lifelong learning success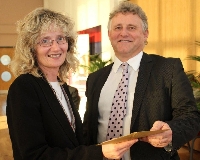 Jac Forster from north Pembrokshire receiving the Welsh for Adults learner of the year award from Dr Malcolm Thomas, Director of the School of Education and Lifelong Learning
Lifelong Learning and Welsh For Adults students and tutors were recently presented awards in a special awards ceremony by Aberystwyth University's School of Education and Lifelong Learning.
Jac Forster from north Pembrokeshire, and originally from London, won the Welsh Learner of the Year award. She has been learning Welsh in classes run by the Mid Wales Welsh for Adults Centre for four years. As a married mother of two, Welsh is now becoming the first language of their home.
Paula Clarke from Ysbyty Ystwyth won the lifelong learning student of the year award. Paula, who is a wheel chair user, has taken up art for the first time since leaving school, and she is now studying for a Higher Education Certificate in Art and Design.
Awards were also given to tutors who had been nominated by their students for their exceptional work.
Artist Angharad Taris from New Quay won the lifelong learning tutor of the year award for her work as an art and design tutor. The Welsh for Adults tutor of the year award went to Wendy Lewis from Llandovery. Wendy learnt Welsh herself as an adult, and now teaches Welsh for Adults courses in the Lampeter area.
The ceremony also celebrated the success of 25 students who had reached special milestones in their learning journey.
The students included Welsh learners who had been successful in WJEC's 'use of Welsh' examinations at Intermediate, Advanced and Proficiency levels, and students who were awarded further and higher education certificates in genealogy, modern languages, field ecology, contemporary Welsh, creative writing, and art and design.
The awards were presented by Professor Tim Woods, Dean of the Faculty of Arts, Professor John Grattan, Dean of the Faculty of Science, and Dr Malcolm Thomas, Director of the School of Education and Lifelong Learning.