Aberystwyth University responds to report by Welsh Language Board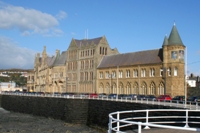 The Old College.
Aberystwyth University has welcomed the Welsh Language Board's finding that the University did not break any specific commitment in its current Welsh Language Scheme. This comes following the publication of the Board's report on the recruitment of the Vice- Chancellor at Aberystwyth University. The University's Council has yet to receive and consider the report.

Sir Emyr Jones Parry, the President of Aberystwyth University said, "We are delighted to have appointed Professor April McMahon as Vice-Chancellor, who on her third day in office gave an address in Welsh to hundreds of staff, students and alumni on the University's stand at the National Eisteddfod. She has also given several interviews in Welsh to the media and her enthusiasm and commitment to learning the language and the bilingual nature of this University, is resounding. We have a special role to play in terms of the Welsh language and culture and it is something which we take very seriously indeed. 
However, the Board argues that the particular role of Vice-Chancellor necessitates that the candidate, prior to appointment, should be able to speak Welsh. The Council of the University had agreed that a prior compulsory requirement to speak Welsh would restrict the field, when the University's primary objective – as it has succeeded - was to attract an outstanding candidate capable of leading the University through the challenges it confronts."
AU26211