3G Pitch opens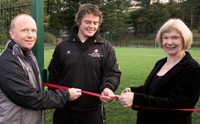 Professor April McMahon, Vice-Chancellor Aberystwyth University, opening the new 3G all weather training pitch in the company of Frank Rowe, Sports Centre Director and Alun Minifey, Student Activities Officer.
A new 3rd generation all weather training pitch with inbuilt shock-pad and rubber filling has been officially opened by the Sports Centre at Aberystwyth University.
Designed to replicate real turf playing qualities and greatly reduce the risk of injury from impact with the ground, the new floodlit pitch measures 40m x 23m and is located next to the popular all-weather pitch on the Penglais Campus.
The facility represents an investment of £175,000 and is ideal for players of contact sports such as football or rugby to train and play on.
"This is great news for the University and the local community" said Frank Rowe, Director of the University's Sports Centre. "It will provide a quality, year-round training area for contact sports that will primarily benefit University and local rugby and football players.'
He added: "In addition to bookings, the Sports Centre is looking to organise junior rugby and football coaching programmes which will support player development in the area. We are also looking to instigate competitive 5 and 7-a-side leagues which have proved extremely popular across much of Britain."
"The 2-lane, 400m Olympic standard running track built last summer, created a space to situate this training size pitch in front of the Sports Centre and we are delighted the University has supported this much-needed facility. We would also like to thank the Athletic Union for their invaluable support in making this all happen."
"At a time when student recruitment is becoming increasingly competitive, flagship facilities such as this are essential in both attracting students and then contributing to their satisfaction. The Sports Centre recognises the need to continually strive to improve its facilities and services and this project will certainly contribute to this."
In addition to regular bookings, the Sports Centre is happy to take children's football party bookings.
To make a booking call 01970 622280.
AU24311