Chartered Institute of Marketing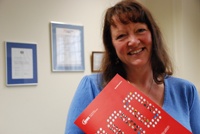 Julie McKeown.
Aberystwyth University's School of Management and Business (SMB) has been awarded accreditation as a Study Centre for The Chartered Institute of Marketing (CIM) to teach their globally recognised professional qualifications in marketing.
From the spring of 2012, businesses in Wales and beyond will be able to gain these qualifications face-to-face at Aberystwyth University. On offer will be introductory courses, as well as the Professional Certificate, Professional Diploma and two specialist Diplomas in Hospitality and Tourism Marketing, and Digital Marketing,
The teaching will be undertaken by specialists in their field, with a wealth of business and academic experience. Modules will be taught at intensive weekends or weekly evening classes, in order to appeal to as wide a cross-section of businesses as possible.
"This is really exciting for us and we hope that many businesses will study for their CIM qualifications so as to help them compete on a more level playing field. Our students already vote us as the best place to study in Wales so we feel that we have a lot to offer business delegates also." says Julie McKeown, Course Director.
Richard Houdmont, the Director for Wales at The Chartered Institute for Marketing added "One of the qualities of a professional marketer is that they are appropriately qualified. In the education sector, we ensure that our qualifications can only be offered by institutions which meet our high standards and I am delighted that Aberystwyth University has become a CIM Accredited Study Centre"
The first courses are planned for the spring of next year (2012) and further information can be obtained from Julie McKeown at jum1@aber.ac.uk.
AU24111