Full sail ahead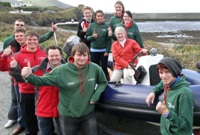 Mrs Ann Robertson (seated) with members of the University Sailing Club.
Aberystwyth University Sailing Club has been donated an inflatable rigged safety tender by former Aber student Mrs Ann Robertson.
Mrs Robertson, who lives in Aberystwyth said that "Aber has always been a part of my life. My parents, my daughter and I all studied here. Now I am glad to be able to make a contribution."
Mrs Robertson was greeted on Wednesday morning at the boat house in Aberystwyth by Student Activities Officer Alun Minifey and Sailing Club Commodore Tom Davies.
Members of the sailing club presented Mrs Robertson with Flowers and thanked her for her generosity.
The club currently has around 40 active members, and the rig, which is not unlike those used by the RNLI, will allow its members to safely practise sailing around Cardigan Bay.
Alun Minifey added; "The Guild and Athletic Union were incredibly thankful for Mrs Robertson's generosity. It has given the sailing club the opportunity to develop and fulfil its potential. We would like to thank Mrs Robertson again we are so thankful for your support."
Julian Smyth, Aberystwyth's Development Director, was delighted with Mrs Robertson's generosity: "Ann represents the very best of Aber's wonderful extended family of alumni.  She has transformed her own passion for sailing into a meaningful and lasting safety provision for the current generation of student sailors and one which will benefit generations of these intrepid junior seafarers for years to come.   We are all hugely grateful to Ann for her support."