Prison art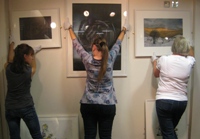 Hanging the exhibition
Art by Offenders & Secure Patients: The 2011 UK Koestler Exhibition

Aberystwyth magistrate and Aberystwyth University School of Art student Marie Fox is co-curator of an exhibition of Prisoner Art which opens this week at London's Royal Festival Hall.
Fascinating in theme and remarkable in artistic quality, the Koestler Awards Exhibition is the UK's annual showcase of visual arts, film, music and writing by prisoners and others in secure settings.
This year's exhibition opens on Wednesday 21 September at London's Southbank Centre and runs from Thursday 22 September until Sunday 20 November.
It is curated by a group of magistrates, and is a ground-breaking exploration of judgement, art and crime.
It is a partnership between the Koestler Trust, Southbank Centre and the Magistrates' Association. The Koestler Trust is a long-established charity that encourages positive achievement by offenders by awarding, exhibiting and selling their artworks.
Selected by the Magistrate's Association, Marie has been given three-weeks training in how to curate an exhibition which included gallery visits and input from arts professionals.
Artworks from all around the UK were gathered together at the Trust's base next to Wormwood Scrubs Prison in west London. In addition to making the selection, Marie was involved in the exhibition plan and display designs, as well as write comments to be shown alongside the works.
Marie, the only representative from Wales, also helped organise the hanging of the works.
Speaking after learning that she had been selected to co-curate the exhibition, Marie commented that 'whilst I'm feeling a tad out of my comfort zone just now, I'm thrilled to think that I'm one of only ten chosen from all the applications throughout the country. Wales is on the map!!'
The Koestler Awards 2011 exhibition showcases art by offenders, secure patients and detainees.
Staff of the Koestler Trust and the curatorial team of the Royal Festival Hall have been an 'inspiration' for Marie who feels that her 'appreciation and concept of art' has been 'challenged' which was 'no bad thing,' as she feels that her 'confidence to pitch and defend pieces of work that [she] wanted in the exhibition has grown by the day.'
Marie became a magistrate when she moved to Aberystwyth twelve years ago: "I wanted to do voluntary work of a different nature to the work I'd participated in when living in Nottinghamshire. When an advert appeared in the local WI newsletter asking 'Are you Magistrate Material?', I responded, went through the process and interviews and was appointed."
She decided to study History of Art following a term at Ruskin College, Oxford on a 'Ransacker's course'. "After retiring from the Institute of Grassland and Environmental Research I didn't particularly enjoy the domestic goddess role so when a Radio 4 Woman's Hour programme did an interview with older women who had spent time at Ruskin and suggested listeners apply, I did! I thoroughly enjoyed the research process and wanted more!" she said.
"I'd researched the development of women's prisons since we don't have one in Wales (I discovered that as part of my magistrates training) but wanted to do something different. As I'd always been interested in galleries/museums/National Trust, Cadw and English Heritage properties I opted for History of Art. An amazing journey since I was 60 when I went to Ruskin!!" she added.