Fierce competition for places at Aberystwyth University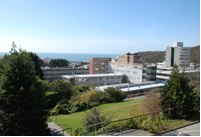 Fierce competition for places at Aberystwyth University
The number of successful applicants for Aberystwyth University has exceeded expectations this year.
The University announced earlier this month that it would not be participating in the Clearing process as the level of applications was so high.
Professor Martin Jones, Pro Vice-Chancellor said: "Aberystwyth is the only Welsh institution not to be part of the clearing process which is testament to the excellent standard and variety of degree courses available at the University. This, combined with the superb range of facilities and the welcome provided by the town, is proving to be a winning combination for the students' experience.
"Yesterday, we learnt that the University was at the top of the league in terms of student satisfaction and this is clearly translated into the number of applications received by prospective students."
This year is the second year that Aberystwyth University is not part of the clearing process and the past three years have all broken the previous year's records and exceeded targets.
Dr Hywel Davies, Director of Recruitment and Admissions commented: "This has been an exceptional year for applications. We have experienced a 16.6% increase on last year and the number of A' level pupils meeting our criteria is also much greater. We are therefore only able to offer places to students who meet our terms of offer squarely, that is, only those who achieve the grades required or higher."
With the University now full for 2011, applicants for the 2012/13 academic year are encouraged to visit the University on the next Open Days on Wednesday 14 September and Saturday 15 October 2011. Details of the Open Day can be found on the University website www.aber.ac.uk/en/open-days.
AU20311