Fulbright scholars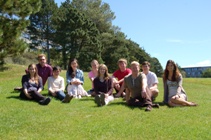 Fulbright Scholars with Dr Marc Welsh, Academic Director for the Fulbright Summer Institute and Chris Neville, International Officer.
Eight of the United States' brightest students are visiting Aberystwyth University as part of a pioneering new Summer Institute which will introduce them to the culture, history, politics and landscape of Wales.
Three universities across Wales were appointed by the prestigious US-UK Fulbright Commission to run the first Wales Fulbright Institute and the students have already embarked on their journey through Wales, starting at Cardiff University. From the capital city, they travelled up to Bangor University where they stayed for a fortnight and they have now arrived in Aberystwyth where they will be spending their final two weeks.
During their time in Aberystwyth, they will look at Wales and its relationships with the wider world and begin to think about different ways Wales is facing up to the challenges of the future.
Dr Marc Welsh, Academic Director for the Fulbright Summer Institute, said: "The historic links between Wales and the USA are more extensive than many people think as a trip to Ceredigion Museum illustrates. This is a perfect chance to develop current links by giving a group of undergraduate students the opportunity to learn about the different parts of Wales first hand. We hope they have a great time here and return home with a real appreciation of the complex nature of modern Wales and a desire to return."
The eight undergraduates were competitively selected from Universities spanning the USA, from Seattle to South Florida. They were welcomed to Wales at a special reception in the Senedd by the First Minister of Wales, Carwyn Jones. The First Minister stressed the historic links between Wales and US and wished the students an enjoyable and memorable stay.
"It's hard to believe that our journey is nearly at an end," commented Jordan Sharpiro from The University of Rochester, New York. "I feel incredibly privileged to have been chosen to participate in this program and am grateful to all the people who helped make our experiences so great. We have been able to learn about history and culture of Wales in the places where it is happening and has happened. I can't wait to go home and share my knowledge of Wales and encourage other people to come here and see the beauty and understand the history of the country. "
Each section of the course involves academic coursework, drawing on the internationally-recognised research and teaching specialisms of all three universities. The students are also attending cultural events and visiting historic sites to gain an understanding of the distinctive regions of Wales.
AU18811