Investing in the future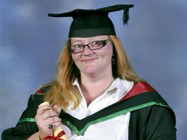 Colette Williams who graduated from SELL and the Department of Theatre, Film and Television Studies.
Mother of eight, Colette Williams, was delighted to receive her BA (Hons.) in Education and Drama (2 ii) at Aberystwyth University recently.
However, mature student, Colette from Newtown stressed that this was by no means the end of the road for her studies.
In August she will begin an intensive five week course studying for the Trinity Certificate in Teaching English to Speakers of Other Languages (TESOL) at the University, and has been accepted on a PGCE course at the University of Wales, Newport in September.
Initially, Colette had surprised her husband with what seemed like an impulsive decision to apply to study for a degree back in 2008, but she was driven, she says, by a need to find a clear direction in life. It was also a time when she had lost quite a few family members.
" My father had passed away a few months earlier," explains Colette. " I suppose I was looking for a new beginning. Now that I've taken the plunge back into education, I feel really switched on to all kinds of possibilities."
Colette registered for her degree course when her youngest child was 9 months old and her eldest was 14. Both she and her husband are full time carers for two of her children who have severe learning difficulties.
The fact that her father succeeded to have a complete change of career when he was 40 encouraged Colette immensely. "My father was a marine engineer who completed a degree in nursing at the age of 40," explains Colette," I strongly believe that no matter what age you are, you can still achieve your potential."
Colette emphasises that it was the support of her family – and in particular her husband – along with a strong sense of commitment from herself which secured her success.
With eight children in tow, there were some challenges to overcome over the three years whilst she commuted from Newtown to Aberystwyth, and she went through a particularly worrying time when one of her sons suffered horrific injuries to his spine.
Whilst Colette is very proud of her personal achievement, as a mother, it is the positive effect that studying at Aberystwyth University has had on her children that gives her the most satisfaction, in terms of being able to provide motivation and 'normalizing' study.
"I was so proud to be able to have three of my children with me on graduation day," says Colette, "and I'm really looking forward to being here to see my children graduate when the time comes."
AU18311