Professor Christianne Glossop honoured as Fellow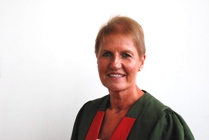 Professor Christianne Glossop
Professor Christianne Glossop, Chief Veterinary Officer to the Welsh Government, is today, Friday 15 July 2011, presented as a Fellow of Aberystwyth University.
Appointed to the role of Chief Veterinary Officer for the Welsh Government in 2005, Professor Glossop is responsible for developing and implementing the animal health and welfare policy and strategy for Wales.
Professor Glossop was appointed Honorary Professor at the Royal Veterinary College, London in 2007. Since her appointment as Chief Veterinary Office to the Welsh Government, the focus has inevitably shifted to teaching animal health and welfare policy development.
She has developed and implemented a number of policies that have put animal welfare within Wales ahead of the position in other regions of the UK, including the publication of dog, cat and rabbit welfare codes, the 2010 ban on the use of electronic ("shock") collars in dogs and cats and on-going work revising puppy breeding legislation.
Her role in supporting the livestock industry has received particular recognition in recent years. Her vision is "to see bovine TB eradicated from Wales once and for all" and she has remained resolute in driving forward the bovine TB eradication strategy. For this, Christianne Glossop was awarded the Princess Royal Award by the Royal Association of British Dairy Farmers in 2009, and in the same year she and Elin Jones, the former Rural Affairs Minister, were also joint winners of the Farmers Weekly Farming Champion award.
Professor Christianne Glossop will be presented by Professor Will Haresign, Deputy Director of the Institute of Biological, Environmental and Rural Sciences, at 11.00 a.m. on Friday 15 July.
She is one of seven Fellows to be honoured by Aberystwyth University during the 2011 Graduation Ceremonies which take place on 12, 13, 14 and 15 July.