Fee Plan Approved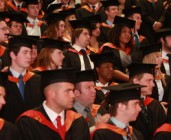 Myfyrwyr Prifysgol Aberystwyth
Aberystwyth University has welcomed today's announcement by the Higher Education Funding Council for Wales that its fee plan for the 2012/13 academic year has been approved.
Professor Noel Lloyd, Vice-Chancellor of Aberystwyth University said:
"I welcome the Funding Council's acceptance of Aberystwyth University's fee plan. The plan encompasses a number of important initiatives that are designed to ensure the further enhancement of the already excellent student experience at Aberystwyth University and enable all those who can benefit from Higher Education to do so."
"Aberystwyth University is committed to widening opportunities for all students, to contribute to social justice, and offer robust packages of support that ensure that our students will be supported at all levels of their study through to graduation."
"The University's aim is to produce students who have the required range of skills for employment, to offer them excellent facilities for learning and teaching, and for their studies to be guided by staff who engage in world class research."
Measures proposed in the Aberystwyth University Fee Plan include:
• Investing £1m in the delivery of a new means tested bursary scheme to focus on the provision of financial assistance to students from low-income background. Around 1,250 students entering AU in September 2012 should benefit from this.
• Providing the Aberystwyth Summer University with places for around 80 young people from areas where, traditionally, the number entering Higher Education is low.
• Enhancing the support provided to students with disabilities.
• Investing in the University's peer-mentoring schemes for students and in the technical resources to support more flexible learning.
• Continuing to invest in capital infrastructure, to ensure that students benefit from an excellent learning environment.
• Developing activities which will enhance the employability of students by means of an award scheme to recognise extra-curricular activities and provide further training opportunities with business and industry.
• Developing a 'technology enhanced learning student user group' through which student members will provide feedback on University services and assist our Information Services department in testing new learning technologies.
The full Aberystwyth University Fee Plan is available at http://www.aber.ac.uk/en/university/student-fees/