Josef Herman: A Centenary Exhibition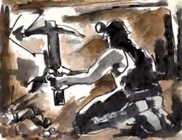 Joseff Herman (1911-2000) In the Pitt 1952
An exhibition marking the centenary of the birth of the realist painter, Josef Herman, is now showing at the School of Art Galleries, Aberystwyth University.
Josef Herman O.B.E., R.A. was born in Poland to a Jewish family, but as an artist he will always be associated with Wales and with Ystradgynlais in particular. He fled from Nazi persecution in Warsaw, and following a period in Brussels, London and Glasgow, he first visited Ystradgynlais in 1944.
Herman's holiday in Wales turned into a ten year stay, as he decided to make his home in Ystradgynlais, and the local mining community became a source of inspiration for the work that he created throughout the mid 1940's to mid 1950's. At the end of his life, he wrote that "... only Ystradgynlais changed my life and my work...When I left I took it with me". 'Joe Bach', as he was affectionately known, died in February 2000.
"The School of Art is proud to show this collection of works to mark the centenary of Josef Herman's birth," said Dr Simon Pierse from the School of Art, who has been working in collaboration with the Boundary Gallery, London. The focus of this exhibition are paintings and drawings of Ystradgynlais, selected by Agi Katz, Directory of the Boundary Gallery, and contains important works on loan by the Herman family and from the Herman Estate.
The exhibition will be opened officially on Saturday 2nd of July at 6.30pm at the School of Art Galleries by the late artist's son, David Herman.
AU15811