Bio-mass research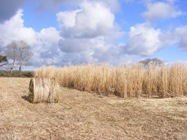 Bio-energy crop
IBERS Aberystwyth University is a partner in a multimillion pound round of biomass research funding projects announced today by ETI – Energy Technologies Institute.
The largest of the three projects is the three-year long £3.28 million Ecosystem Land-Use Modelling trial to study the impact of bio energy crop land-use changes on soil carbon stocks and green house gas (GHG) emissions.

The project will develop a model to quantitatively assess changes in levels of carbon, nitrogen and water in soil, combined with the GHG flux which results from the conversion of land to bio energy crop production. 

Categorisation and mapping of this data using Geographic Information Systems will allow recommendations on the most environmentally efficient agricultural and crop management techniques for bio energy crop scenarios.

The project is being delivered through the Centre for Ecology & Hydrology, in conjunction with Aberystwyth University, Forest Research, the University of Aberdeen, the University of Edinburgh, the University of Southampton and the University of York.
Domestic biomass, sustainably grown in the UK, could provide up to 10%1 of the UK's energy needs by 2050 and significantly contribute to the reduction of greenhouse gas (GHG) emissions.
Three new bio energy projects by the Energy Technologies Institute (ETI), valued at £4.57 million, are looking to establish an in-depth field trial to study ecosystem and sustainability when converting land to bio energy crop production.
They will explore at an engineering level, the cost-effectiveness, technology challenges and technology developments required for biomass to power combined with Carbon Capture and Storage (CCS), the key challenges in developing sustainable UK bio energy supply chains for heat, power, and transport fuels production, and consider the best use of UK biomass from an energy security, affordability and GHG reduction perspective.
Energy and Climate Change Minister Greg Barker said: "Bio energy has the potential to play a key role in low carbon energy generation in the future, which is why we need groundbreaking innovation today. These projects being run by the ETI will greatly deepen our understanding of this kind of energy, helping the sector to grow and thrive and ensure the best ideas and research are given every chance to succeed."
The ETI is a public private partnership tasked with developing "mass scale" technologies that will help the UK meet its 2020 and 2050 energy targets.
Akira Kirton, the Technology Strategy Manager of the ETI, who launched the projects today at All-Energy in Aberdeen, said: "There are well-known and potentially controversial sustainability issues surrounding the large-scale use of biomass, especially around the subject of land-use change. However, there is the potential for biomass to produce up to 10% of the UK's energy needs and our models suggest that combined with CCS it may be the single most important element in creating a cost effective and sustainable UK energy system for 2050. There has already been extensive research carried out overseas to look at the use of biomass, but nothing on the UK exclusively. These projects will analyse a wide range of biomass crops and energy conversion technologies to inform the development and deployment of effective bio energy solutions, and will also guide the ETI's bio energy strategy and help inform the UK benefits case for the sector."
Notes:
1/ Based on the DECC pathway assessments (taken from the HMG DECC 2050 Pathways Analysis report, July 2010), a figure of 10% is well within the high and low case options for bio-supply availability from domestic resources.  The actual figure will clearly depend on final UK demand in 2050, availability of land for energy production, as well as supply-chain and technology constraints (some of which will be evaluated in more detail in this project).  There are clearly also questions of sustainability of certain land-use to energy crop conversions. http://tinyurl.com/2v48tnh