Language success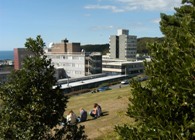 Twelve teachers from Ceredigion have been celebrating their success in completing an intensive course to learn Welsh which was organised between September and December 2010 by the Mid Wales Welsh for Adults Centre at Aberystwyth University. The aim of the course, sponsored by the Welsh Assembly Government's Welsh Language Sabbatical Scheme, is to enable teachers to learn Welsh at Entry and Foundation level. Once back in their respective schools they are equipped to enhance the teaching of Welsh as a second language, to promote Welsh medium education, and to develop the Welsh ethos of their schools.
The successful teachers' achievements were acknowledged at a special ceremony hosted by Professor Noel Lloyd, Vice-Chancellor of Aberystwyth University on Monday 28th March. The successful teachers are:
Robert Evans, Ysgol Uwchradd Aberteifi
Sarah Stephenson, Ysgol Uwchradd Aberteifi
Huw Raw Rees, Ysgol Cwm Padarn, Llanbadarn
Anne Williams, Ysgol Llwyn yr Eos, Penparcau, Aberystwyth
Jane Thorogood, Ysgol Llwyn yr Eos, Penparcau, Aberystwyth
Jennifer Jones, Ysgol Llwyn yr Eos, Penparcau, Aberystwyth
Nuala Davies, Ysgol Comins Coch
Mandy Rowe, Ysgol Padarn Sant, Aberystwyth
Patricia Slater, Ysgol Padarn Sant, Aberystwyth
Anna-Rose Richards, Ysgol Plascrug, Aberystwyth
Julia Liebescheutz, Ysgol Uwchradd Llanbedr Pont Steffan
Susan Jones, Ysgol Uwchradd Tregaron
Speaking of her achievement Jane Thorogood, a teacher at Ysgol Llwyn yr Eos, Penparcau, said: It was a perfect opportunity to develop my Welsh skills and to learn Welsh that I can use with the children in my class.
Siôn Meredith, Director of Mid Wales Welsh for Adults Centre, congratulated the teachers on completing the course, the first of its kind to be run in Mid Wales. He said:
We were very proud to have the opportunity to introduce this innovative course in Ceredigion. The teachers made such excellent progress in a short period through total immersion in the Welsh language for 3 months. We look forward to announcing plans to hold more courses through this scheme for teachers and learning assistants in Mid Wales over the next three years.
Eifion Evans, Director of Education and Community Services at Ceredigion County Council said:
Improving standards in teaching and learning can only come from investing in developing the skills of the workforce. This is an excellent example of investing in skills that will provide better outcomes for our pupils in Ceredigion. We have a very positive emphasis on developing bilingual skills in this county and the commitment shown by our schools and the participating teachers in particular is a real boost to our bilingual policy. The teachers have shown a huge amount of enthusiasm during the course and after it and I congratulate them on their achievement.
Ceredig Davies, Councillor with responsibility for the Education and Community Services portfolio, Ceredigion County Council said:
The teachers have achieved something quite special through the sabbatical course and I congratulate them on their efforts. I also appreciate the support of their schools for releasing the teachers and am glad to recognise that the University has provided a course of very high quality. Without doubt this is a valuable contribution to developing teachers' skills that will in its turn benefit our pupils by increasing bilingual provision in our schools.
The Mid Wales Welsh for Adults Centre is funded by the Welsh Assembly Government and run by Aberystwyth University. Established in 2006, it organises classes for those who wish to learn or improve their Welsh in Ceredigion Powys and Meirionnydd. Further details are available on line at www.aber.ac.uk/welshforadults/ or by calling 0800 876 6975.