'What is the European Union's Role in the Emerging World Order?'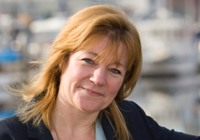 Dr Kay Swinburne
Dr Kay Swinburne, Conservative Member for Wales at the European Parliament, is returning to Aberystwyth 'upon popular demand' by students who thoroughly enjoyed her previous visit.

She will deliver the 2011 Guest Lecture for the Centre for European Studies entitled: 'What is the European Union's Role in the Emerging World Order?'

The lecture will commence at 14.00 on Friday 18th March 2011 in the Main Hall of the Department of International Politics.

Kay was born in Aberystwyth and raised in Llandysul, Ceredigion. She has extensive international business, finance and healthcare experience gained whilst working in the financial services specialising in cross-border mergers and acquisitions.

As well as representing numerous multinationals in trade and financing initiatives across Europe, she has also been a leading healthcare advisor on Central and Eastern European issues acting as corporate and government advisor on biotechnology and pharmaceutical privatisations.

The Centre for European Studies is a cross-departmental and multi-disciplinary research-led learning centre focusing on the study of further European integration and Europe's relations with the outside world.  

It is currently hosted by the Department of International Politics and is largely student-run.

The key aim of the CES is to develop excellence, through innovative teaching, research and continuing professional development in the areas of International Politics, Geography and Earth Sciences, Environmental Sciences, European Languages, Law and Criminology, History, Management and Business and any other discipline with a European focus.