The Mooting Society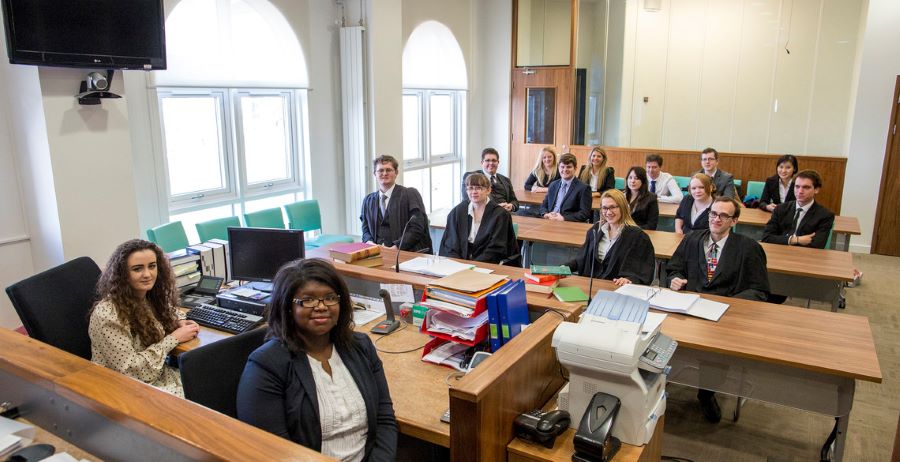 The Mooting Society provides a great opportunity to take part in mock trial competitions called moots.
This is not only a great opportunity to develop your understanding of the law and presenting legal arguments, but is also a good opportunity to develop your research and presentation skills.
Aberystwyth University Mooting Society is open to all students of the Department of Law and Criminology. The society meets on a weekly basis and offers training courses and mock trial competitions for both new and experienced mooters.
Mooting is the oral presentation of a legal argument in mock court proceedings. It is designed to develop legal skills and will provide students with the closest experience to appearing in court.
For those considering a career in courtroom advocacy, experience of mooting is essential. However, mooting develops a wide range of skills applicable to both legal and non-legal careers alike including:
confidence in public speaking
researching skills
writing and Presentation skills
analytical and problem solving skills
time management and the ability to balance a competing work load.
Mooting forms a part of the Law degree at Aberystwyth University. As such, participation in the mooting society has a significant educational value, providing members with the opportunity to enhance their understanding of the law and their advocacy skills.
The society also hosts a number of internal competitions during the year, including the Advocacy Competition for New Mooters, and a moot competition for each academic year. During a mooting competition participants will usually moot in pairs, with two competitors acting on behalf of the appellant and two on behalf of the respondent. Each team traditionally comprises of a senior and junior counsel, who cover a separate ground of appeal. The society also organises fun 'mock trials' with recent competitions including R v The Three Little Pigs on a count of murder, and R v Dorothy from The Wizard of Oz, on one count of theft and one count of manslaughter.
The Society has participated in a number of National Competitions, including the OUP/ICCA National Moot, the Welsh National Mooting Competition (which Aberystwyth have won twice), and the University of Leicester Medical Law Mooting Competition (where Aberystwyth was one of the two finalists).
The Society has also held mooting competitions in real courts, including a moot competition held at the Supreme Court in 2016, as well as Aberystwyth Justice Centre. Moots are judged by legal practitioners, and are therefore an excellent opportunity to meet with solicitors and barristers.
Further information
For further information please do not hesitate to contact the department's Mooting Officer: Jan Holloway jah48@aber.ac.uk