Waste from sugarcane production to tackle tooth decay, obesity and diabetes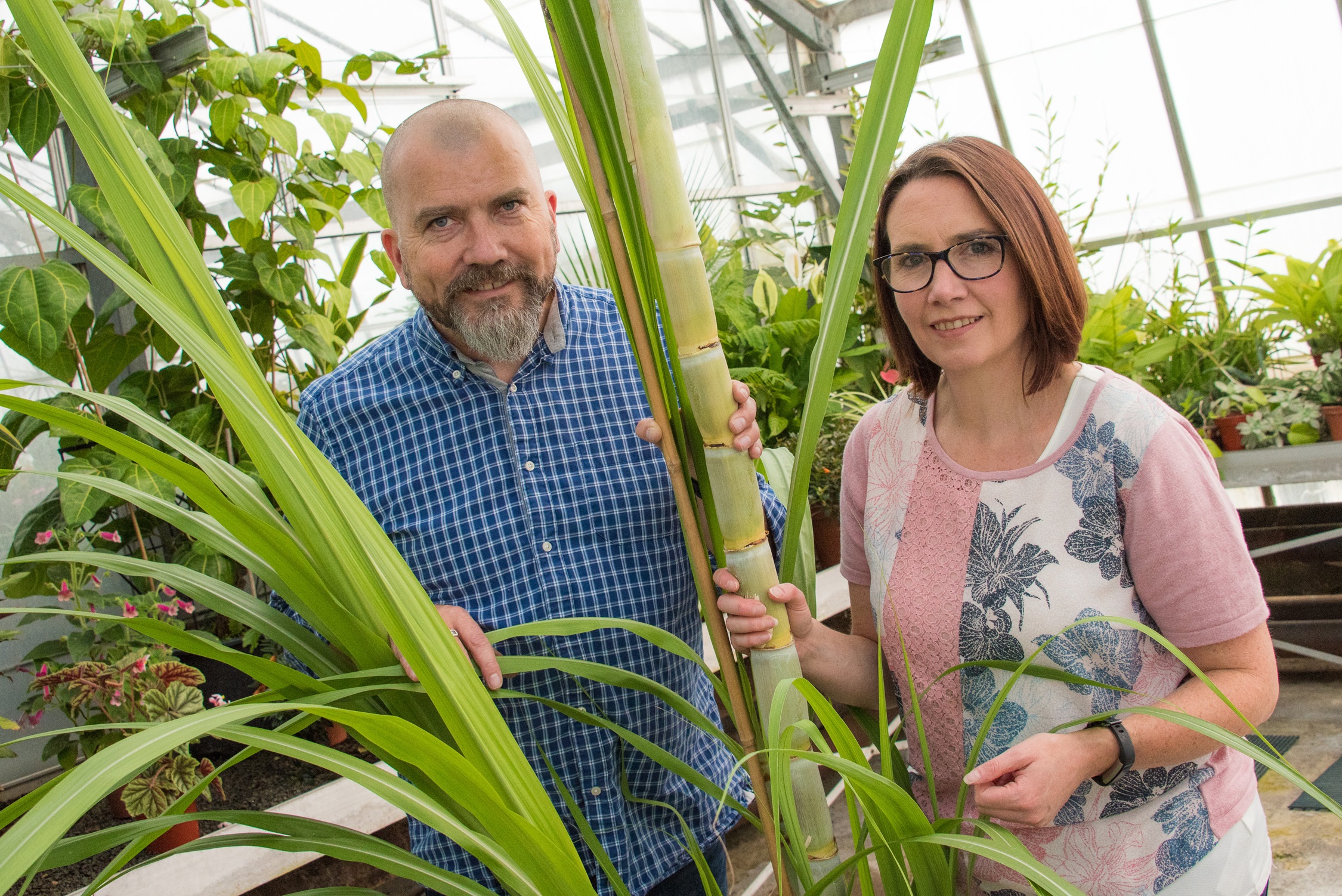 Dr David Bryant and Dr Sian Davies of the BIOREVIEW team at IBERS
A new collaborative research project between the UK and India led by Aberystwyth University, aims to transform waste streams from the Indian sugarcane industry into a range of valuable new products that can address tooth decay, obesity and diabetes.
BIOREVIEW is a £1.99M Newton Bhabha Fund Industrial Waste Challenge project, a collaboration of scientific research and business from India and the UK in order to create innovative solutions to global challenges.
Dr David Bryant leads BIOREVIEW and the team at the Institute of Biological, Environmental and Rural Sciences.
Dr Bryant said: "India is the world's second largest producer of sugar and consumes the largest amount of sugar.
The Indian sugarcane industry generates waste in the form of unwanted residual liquid, known as spent wash, from bioethanol production; and dry pulpy residue left after the extraction of juice from sugar cane, known as bagasse.
We are working together to develop innovative, economically viable, industrial biotechnology processes that will create value added products from this waste."
It has been predicted that products worth over £12bn could be produced from the spent wash, and that xylitol, a diabetic compatible sweetener that prevents tooth decay, to be produced from bagasse could be worth £1bn by 2025.
Microcrystalline cellulose that has uses in food and pharmaceuticals will also be produced from residual bagasse. Other applications include production of depth filters that can help clean up polluted or contaminated water sources.
The integrated BIOREVIEW bio-refining processes that will be progressed in this project will be developed into a business justification for the Indian sugarcane industry to invest in transforming their waste streams into a range of commercially valuable commodities.
The overall BIOREVIEW vision involves integrating advanced bio-refining processes into Indian sugar mills to result in economic, environmental and societal benefit to both industry and the wider Indian society.