Aberystwyth University at the Royal Welsh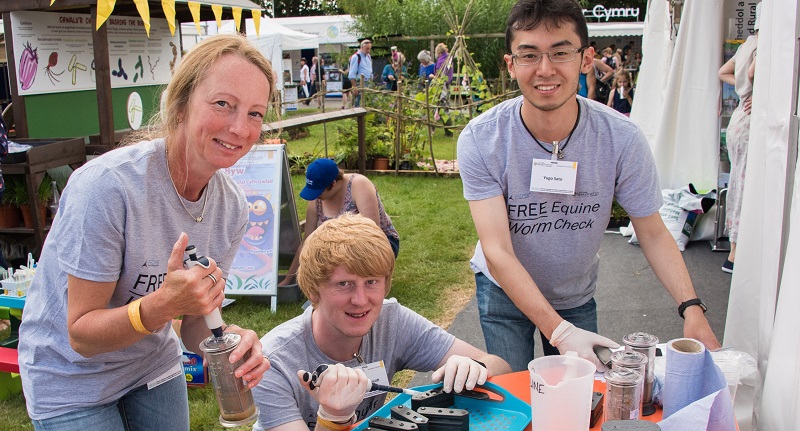 Aberystwyth University is offering a full programme of activities at the Education Pavilion and the IBERS marquee in the Countryside Care Area at the Royal Welsh Show.
Aberystwyth University is looking forward to welcoming visitors to the Royal Welsh Show in Llanelwedd next week (23-26 July 2018) with a packed programme of activities and events.
The University has two stands on the showground, at the Education Pavilion near the Main Ring, and the Institute of Biological, Environmental and Rural Sciences (IBERS) marquee which is located in the Countryside Care area.
Amongst the exhibits at the Education Pavilion stand (G446) will be 'Idris', IBERS' rigid hulled inflatable boat (RIB) which is used widely by marine biology students to study the waters of Cardigan Bay.
Geography lecturers will show the Augmented Reality Sand Box which projects contours and elevation data in real-time as you modify the sandy-landscape; and a Little River so visitors can see for themselves the power of fluvial systems with this physical river model.
Events during the week include a showcase of industry relevant research.
'Innovation for Brexit', which features the new Future Foods Programme, takes place at 3:30pm on Monday 23 July and is already fully booked.
The popular annual Old Students' Association takes place at 11:30am on Tuesday 24 July with GM expert Professor Huw Dylan Jones.
This is followed at 1:30pm on Tuesday afternoon by the NRN–LCEE Sêr Cymru sessions on 'Building The Future with Plants'.
The week's final session, 'Back from the Brink - addressing tipping points in Welsh grasslands', takes place in the Education Pavilion at 1:00pm on Wednesday 25 July.
Also at the Education Pavilion, IBERS scientists will exhibit a wide range of parasites in jars, explain how Aberystwyth students are learning about this threat to agriculture at home and worldwide, and how we are working with the industry to control them, whilst telling some gruesome tales of how some of these ended up in jars.
There will also be an opportunity to handle some real brains, and to guess which animal they belonged to - all safely contained in boxes of course.
If that's sent your pulse racing, then check it out with IBERS' sports scientists who can test your blood pressure on site; along with other free on the spot tests on grip strength, leg strength, jump height and lung function.
Forages for The Future will be the theme for the Aberystwyth University IBERS marquee (CCA767) in the Countryside Care Area.
Showcasing the Institute's award winning world renowned grasses and clovers, plant breeding experts will be on hand to discuss how new varieties fit for the future and climate change are being developed.
There will also be an opportunity to learn about the brand new Welsh Government funded distance learning programme BioInnovation Wales.
Part of a £7.3m EU-backed initiative announced by Cabinet Secretary for Energy, Planning and Rural Affairs, Lesley Griffiths on Thursday 19 July 2018, BioInnovation Wales makes IBERS science accessible to more Wales agri food businesses, and strengthening the skills of the workforce.
The work of our unique in the UK BBSRC funded National Plant Phenomics Centre on root systems and their increasing importance for agriculture will feature too.