Royal Society of Biology Accreditation for IBERS courses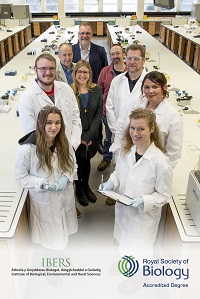 Aberystwyth University has received Royal Society of Biology (RSB) Accreditation for twenty undergraduate bioscience courses.
Five Integrated Master's courses have also been awarded Interim Advanced Accreditation status, which will become Advanced Accreditation when the first cohort of students graduate from the MBiol degree courses in the summer 2018.
The RSB is the leading professional body for the biological sciences in the UK and this accreditation is in recognition of the quality of bioscience teaching at the Institute of Biological, Environmental and Rural Sciences (IBERS).
The RSB Accreditation programme champions excellence in the biosciences, by identifying degree programmes offering high standards of teaching, curriculum provision and practical skill sets.
The accreditation endorses the employability of IBERS bioscience graduates, and their readiness for a career in bioscience research.
Professor Mike Gooding, Director of IBERS said: "I am delighted to receive this Accreditation status recognising that the Institute is offering an outstanding bioscience education, providing our students with the skill set required to compete and thrive in today's competitive jobs arena.
"Students graduating from IBERS will receive accredited degrees from this year onwards and I would like to formally acknowledge the commitment and dedication of the IBERS teaching team and commend them on achieving this prestigious accolade."
Dr David Whitworth, Reader in Biochemistry at IBERS said: "By choosing to study for a bioscience degree at IBERS, our students can be confident that it meets a set of criteria determined by bioscience professionals independent of the university.
"This gives the assurance that they will graduate equipped with the knowledge and skills required of biologists, making them highly employable both within and beyond their chosen field.
"In addition they will receive a year's free RSB membership offering unique opportunities to share their passion for the biosciences, with a range of benefits from early career support to participation in science festivals, blogs and professional networks."