Combining work and a degree, IBERS Agriculture graduate Jac Hughes makes it look easy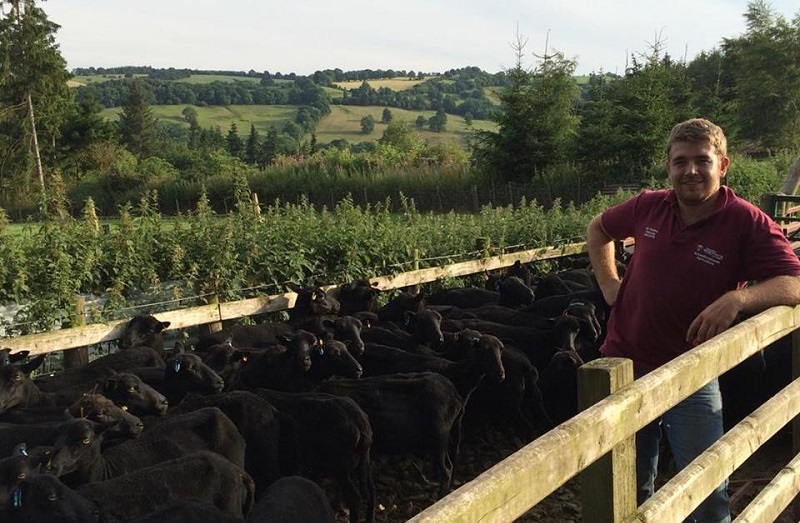 Jac Hughes
Jac Hughes worked part-time throughout his studies and this week graduates with a 2:1 BSc Animal Science and Agriculture from the Institute of Biological, Environmental and Rural Studies (IBERS), Aberystwyth University.
Jac grew-up on his parent's diary and livestock farm in Chirk near Wrexham in North Wales. He explains, "I always knew I wanted a career in farming so when my parent's landlord offered me a job assisting with the control of the livestock enterprise on his neighbouring sheep and beef farm I eagerly accepted, knowing that I would gain invaluable work experience to complement my studies and build my chosen career".
Owner of the sheep and suckler beef farming business where Jac works, Guy Myddleton says, "We have been delighted to support Jac in his chosen career path, and the work that he has carried out for us in between his academic studies has been of the highest order for an individual of his age."
Jac's course included a year in industry, during which time he worked on the farm full time; "The year in industry allowed me to dedicate more of my time to the growing scale of the business and gave me the opportunity to apply the knowledge and skills I had learned through my studies".
It seems the hard work has paid off and the scale of the business has grown over since Jac became involved and now has 700 ewes and 50 sucklers. Jac is now in charge of the growing livestock enterprise for the business, a role that will become full-time after graduation.
Dr Iwan Owen, Lecturer in Agriculture at IBERS says, "From the outset, it has been obvious that Jac is an intelligent, hard working individual who is very strongly focused on agriculture and determined to forge a successful career in the industry. Throughout his studies he has performed very well academically whilst at the same time laying the foundations of his future career. I have no doubt that he will combine what he has learned during his time at University with his considerable practical experience and will make his mark industry."