New courses available at IBERS for 2017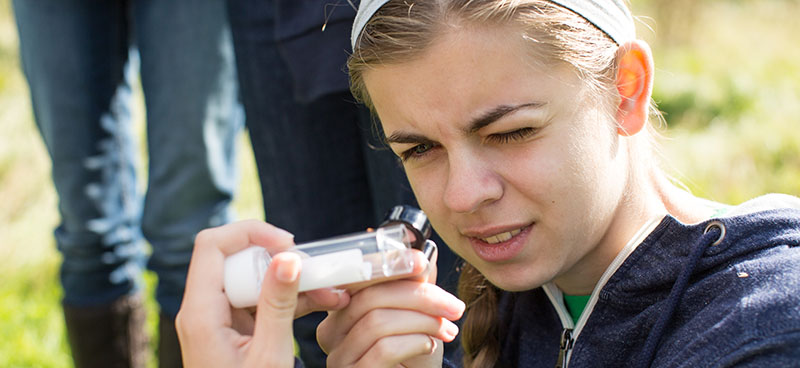 Two brand new undergraduate degree schemes in Human Biology and Health, and Wildlife Conservation have been launched by Aberystwyth University's Institute of Biological, Environmental and Rural Sciences (IBERS).
The BSc Human Biology and Health course will build on the human health aspects of biological studies already available through IBERS.
This new course aims to provide students with a broad understanding of biological disciplines in order to equip them with the skills and knowledge required to pursue a career at the forefront of developments in medicine, nutrition and sports science.
Students will focus on the aspects of biology which are most relevant to our own species; including genetics, physiology, cell biology and anatomy; and will also develop an appreciation of how the body functions in both health and disease.
"This exciting new undergraduate BSc course is ideal for students looking to a career focused on improving people's health and wellbeing," saysDr Daniel Low, Lecturer in Sport and Exercise Science and scheme coordinator of the new course.
The BSc Wildlife Conservation course aims to provide students with comprehensive training in the natural sciences as well as the human aspects of conservation by enabling them to explore the background scientific knowledge, and ecological concepts applied to the conservation of endangered flora, fauna and habitats.
Reader in Biological Sciences and Scheme coordinator of the BSc Wildlife Conservation, Dr Jim Provan explains, "Students will gain a broad knowledge of the key underlying concepts relevant to conservation biology such as evolution and diversity of organisms; habitats and ecosystems and relevant policy and management based aspects."
Professor Mike Gooding IBERS Director says, "The new schemes reflect a growing need to address environmental, evolutionary and social challenges. In an era of unprecedented global change, the need to conserve biodiversity is now paramount to both research and policy. Similarly, human biology is crucial to advances in medicine, health and wellbeing".
Both new courses will allow students use the extensive expertise and research activity of staff within IBERS to explore these vital areas".
The courses are open now for applications and will run from September 2017 onwards, available as 3-year or 4-year (with integrated year in Industry) options, which will further boost future prospects.