'Plants in Space' at National Botanic Garden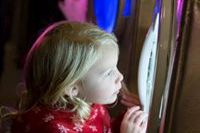 Photo credit: Tim Jones Photography
Plant scientists welcomed visitors to a Plants in Space event at the National Botanic Garden of Wales on Saturday November 19th.
Dr Peter Wootton Beard from IBERS said
"With a rapidly growing population and more mouths to feed than ever before, we need to develop new ways to grow food using minimal resources. We know that plants need earth, sunshine and water to grow – but what if you don't have any of them?
One technological solution to this is vertical farming such as Grow Up Farms in London (www.growup.org.uk).
In order to do this successfully we need to know how plants grow under controlled conditions by providing the light, food and water very precisely.
We used space to help explain this because growing food for astronauts, and maybe future settlements in space is the most extreme example of how this research could be applied."
Peter is a Research Fellow with the National Research Network for Low Carbon Energy and Environment (NRN-LCEE) at IBERS, working with research colleagues at Bangor and Cardiff Universities on the Plants and Architecture project.
Astrobotany was coined as a phrase as long ago as 1945 and experiments have been conducted on space missions ever since.
In the most recent mission astronauts ate freshly grown green vegetables for the first time in outer space.
Peter said " We planned the day as an opportunity for us to communicate a bit of that science."
The event featured a range of activities demonstrating how plants sense light and gravity differently to us, how plants can be grown even in a rocket or on the space station and how some of our food might be produced in the future.
Aberystwyth based Company 'The Homegrow Centre' supported the event by demonstrating their hydroponics growing kit which could be used by local restaurants to grow their own micro herbs etc. indoors, without using soil. Children were able to make plastics from plants, and took their own creations from the day home with them.
The event was organised by Aberystwyth University, in partnership with The National Botanic Garden of Wales, South Wales Astronomical Society and the National Research Network for Low Carbon, Energy, and the Environment.