Expanding Green Horizons at the Spring Fair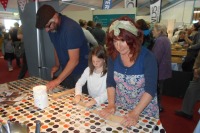 Organic Centre Wales held a variety of activities at the Sustainable Living pavilion in this year's Royal Welsh Spring Fair.
The Welsh Grain Forum, which has been supported by the Better Organic Business Links project held a pizza making workshop for kids and the hungry adults who accompanied them, and members of the Welsh Grain Forum exhibited the different quality grains available in Wales. Anne Parry from Felin Ganol Mill highlighted the achievements of the Forum over the last few years and OCW launched a report that brought together all the recent work to reinvigorate Wales' grain economy.
Tony Little BOBL project officer responsible for the Grain Report said:
"BOBL has aimed to develop markets for organic produce whilst driving innovation and promoting sustainable behaviours at all levels within the supply chain and increasing consumer demand and the home market for organic produce. The project has provided primary producers and the organic sector in general with valuable market information."
The 10' Talk Shop challenged people to think outside the box. Llanidloes food blogger, Annie Levy highlighted the qualities of fermenting food whilst George Marshall asked the question "How do we make people care about climate change?" Steve Jones of Newtown called on communities to utilise public land and use it to grow food rather than lawns thus supplying local people with fresh food. Andrew Warren, director of compost toilet manufacturer, Natsol, gave a low down on the eco-friendly non-water closet and Suzanne Noble of Plant Wild spoke about restoring woodland flora.
On Sunday there was an opportunity to hear from Gerald Miles of St David's and how CSA (Community Supported Agriculture) works on his family farm at Caerhys. Casting the net wider was Pablo Spaull who has established a fair trade chocolate business in mid Wales working in conjunction with indigenous people in Peru who supply him with the raw material. William Silverstone of Silverstone Green Energy, Narberth gave a chat on solar energy, and Roz Mortis spoke of her experience as a WWOOF (World Wide Opportunities on Organic Farms) host which generated quite a bit of interest amongst some of the smallholders present.