A Sustainable Future for Organics in Wales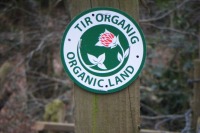 The Welsh Government and EU funded Better Organic Business Links (BOBL) project is holding a strategy conference in Builth Wells on 21 May. The conference will look back on a challenging five years and set down a pathway to take the sector forward to 2020.
The conference theme is Resilience and Opportunities: Sustainable Organic Marketing and Production in Wales.  The organic sector is consumer led and the conference will include the launch of a report on the Organic Retail Market in Wales.  Susanne Padel, one of the authors of the report and a senior programme manager at the Organic Research Centre, Elm Farm will present key conclusions.  The commercial aspects of the market will be the theme of the opening address from Mr Duncan Sinclair, Agriculture Manager for Waitrose.  Waitrose has strong links with Aberystwyth University, an OCW partner, and is a leading retailer in the organic sector. 
The morning session will also look at how supply chain businesses can engage with their customers and Mark Jones of the Welsh Government Rural Regeneration Unit will look at food and the community. The presentations and panel debate will be chaired by Professor Nigel Scollan, Waitrose Professor of Sustainable Agriculture.
Dafydd Owen, BOBL Project Director said:
"The conference marks an important milestone in the development of the organic sector in Wales and is an opportunity to build on what has been learnt from the BOBL Project and the success of Glastir Organic in supporting farmers who have committed to organic production for the next five years. The speakers will give delegates an insight into the current market for organic products and the achievements of the BOBL Project."
The afternoon session will be led by Professor Nic Lampkin, Executive Director of the Organic Research Centre, Elm Farm and will look at the needs of the organic sector over the next five years. The afternoon workshops build on a stakeholder conference held in February and are an opportunity for delegates to share experiences and input ideas into a strategy to lead the organic sector to 2020.
Mr Owen continued: "Wales has played a key part in the historic development of the organic sector in the UK, and we can continue to do so. This conference is an opportunity to agree the future we want and influence the investment needed to make it happen. We must build the strategy on what has already been achieved and learnt, and make it relevant to the organic supply chain to realise the vision of a bright future for the sector in Wales."