Wales Farm Income Booklet provides new results from the Farm Business Survey (FBS) for 2014-15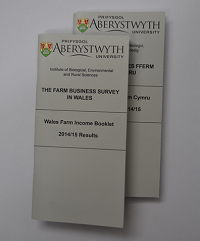 The latest Wales Farm Income Booklet, published this week by the IBERS Aberystwyth University, provides new results from the Farm Business Survey (FBS) for 2014-15. The data shows the variation in performance between the average and the top performers and demonstrates the scope that exists for change.

Tony O'Regan, Director of the FBS Unit at Aberystwyth University says  "Many farmers in Wales kindly provide data for the Farm Business Survey and farmers across Wales will appreciate that the booklet contains accurate and reliable information with good size samples for each farm type. This booklet is a valuable tool which will help farmers benchmark their performance". 

"The consistent factor every year is the range of profitability within the sample farms, for example the top third lowland cattle and sheep farmers retained 32% of output as profit, compared with 20% as average. Similarly top third lowland dairy units achieved 30% of output as profit versus an average of 20%," said Mr. O'Regan.
Particular attention also needs to be given to the contribution of the Single Farm Payment, other subsidies and diversified income so that the reader can examine the contribution of the 'farming' enterprises to the bottom line. For example, these three sources contributed around 38% of outputs and potentially 180% of profits, on average, for hill sheep farms.