IBERS scientists lead red clover revival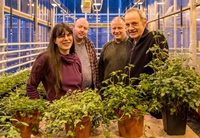 Dr Leif Skøt (right) with colleagues at IBERS
‌Scientists at Aberystwyth University's IBERS (Institute of Biological, Environmental and Rural Sciences) and The Genome Analysis Centre (TGAC) in Norwich have sequenced and assembled the red clover genome.
The study entitled: "Red clover (Trifolium pratense L.) draft genome provides a platform for trait improvement" is published today in Scientific Reports, a journal of the Nature publishing group.
This is a significant scientific milestone for agriculture, as it will enable plant breeders to develop new varieties of red clover suitable for sustainable farming in a challenging and changing environment.
Senior author Dr Leif Skøt who is leading the project at IBERS said: "The goal is for this information to feed into our on-going red clover breeding programme to speed up the improvement of persistency and grazing tolerance whilst maintaining the high biomass yield red clover is known for.
We are combining the complementary expertise of our two institutes to unravel the genetic basis of the architecture of red clover plants. The collaboration reinforces the UK's leadership in translating the development of genetic and genomic resources from fundamental science to applications with a potential impact on the local and national economy."
Forage legumes, in particular clovers, are key components of more sustainable livestock agriculture, as their use will reduce the need for industrial nitrogen fertilizer and also serve as a source of home grown protein for animal feed.
Until the 1960's the use of these legumes was essential to maintain soil fertility in crop rotations. Since then its use declined chiefly as a consequence of the availability of cheap industrially made nitrogen fertilizer.
However, the need to now reduce the environmental footprint of livestock farming and increase the supply of homegrown fodder protein is driving a comeback for red clover and other forage legumes, and increased use of red clover in livestock farming is dependent upon genetic improvement of this crop.
An ongoing project at IBERS and TGAC aims to use a collection of diverse natural lines of red clover for breeding new elite varieties more resistant to grazing and stomping by livestock, and to understand the domestication process that led to the adoption of red clover as a crop.
This draft genome will assist the on-going breeding programme, by speeding up the incorporation of beneficial traits from a panel of diverse red clover plants sampled from all around Europe for use in sustainable agriculture.
Lead author Jose de Vega, researcher at TGAC, said: "The publication of the red clover reference genome is an important milestone, as it represents the first genome sequence of the clover forage crops, which are key components of more sustainable livestock agriculture.
"The availability of the genome assembly will pave the way towards genomics-assisted breeding methods for forage legumes, and provide a platform for deeper understanding of the genetics of forage crop domestication."
"Red clover is attractive because of its high protein content, diversity and ability to fix atmospheric nitrogen, but enhancing its role in sustainable agriculture requires improvements of persistency, disease resistance, and tolerance to grazing."
This is one of the first results of the collaboration between The Genome Analysis Centre in Norwich, and IBERS, Aberystwyth.
This is a pipeline right from genome sequence to new red clover varieties. This work results from the partnership between, TGAC, IBERS and Germinal Holdings LTD, part funded by the latter through TGAC Capacity and Capability Challenge (CCC) programme, and a Responsive Mode award from the BBSRC.
IBERS and TGAC are strategically funded by BBSRC and TGAC operates a National Capability to promote the application of genomics and bioinformatics to advance bioscience research and innovation.
IBERS
The Institute of Biological, Environmental and Rural Sciences (IBERS) is an internationally recognised research and teaching centre providing a unique base for research in response to global challenges such as food security, bioenergy and sustainability, and the impacts of climate change. IBERS scientists conduct basic, strategic and applied research from genes and molecules to organisms and the environment.
IBERS receives strategic research funding of £10.5m from the BBSRC to support long term mission driven research, and is a member of the National Institutes of Bioscience. IBERS also benefits from financial support from the Welsh Government, DEFRA and the European Union.
About TGAC
The Genome Analysis Centre (TGAC) is a world-class research institute focusing on the development of genomics and computational biology. TGAC is based within the Norwich Research Park and receives strategic funding from the Biotechnology and Biological Science Research Council (BBSRC) - £7.4M in 2013/14 - as well as support from other research funders. TGAC is one of eight institutes that receive strategic funding from BBSRC. TGAC operates a National Capability to promote the application of genomics and bioinformatics to advance bioscience research and innovation.
TGAC offers state of the art DNA sequencing facility, unique by its operation of multiple complementary technologies for data generation. The Institute is a UK hub for innovative Bioinformatics through research, analysis and interpretation of multiple, complex data sets. It hosts one of the largest computing hardware facilities dedicated to life science research in Europe. It is also actively involved in developing novel platforms to provide access to computational tools and processing capacity for multiple academic and industrial users and promoting applications of computational Bioscience. Additionally, the Institute offers a Training programme through courses and workshops, and an Outreach programme targeting schools, teachers and the general public through dialogue and science communication activities. www.tgac.ac.uk
About BBSRC
BBSRC invests in world-class bioscience research and training on behalf of the UK public. Our aim is to further scientific knowledge, to promote economic growth, wealth and job creation and to improve quality of life in the UK and beyond.
Funded by Government, and with an annual budget of around £467M (2012-2013), we support research and training in universities and strategically funded institutes. BBSRC research and the people we fund are helping society to meet major challenges, including food security, green energy and healthier, longer lives. Our investments underpin important UK economic sectors, such as farming, food, industrial biotechnology and pharmaceuticals.
For more information about BBSRC, our science and our impact see: www.bbsrc.ac.uk
For more information about BBSRC strategically funded institutes see: www.bbsrc.ac.uk/institutes
AU37815