IBERS Student Awarded Natural Resources Wales Scholarship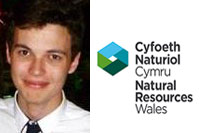 Anthony Barker
A student at IBERS Aberystwyth University has been successful in gaining a twelve month scholarship placement with Natural Resources Wales.
Anthony Barker, who has just finished his second year studying for an undergraduate degree in Marine and Freshwater Biology applied for the placement together with other students from Bangor, Swansea, Liverpool and Heriot-Watt universities. He was successful in reaching the interview stage, and was then selected on his previous experience and enthusiasm.
The twelve month placement with Natural Resources Wales, a Welsh Government Sponsored Body committed to the sustainable maintenance of Wales' natural resources, commences later this month. Anthony will be joining the Natural Resources Wales Marine Monitoring Team in Bangor where he will be trained to use the latest in marine survey techniques, from SCUBA diving monitoring to side scan sonar surveys, laboratory analysis and data handling.
On finding out he had been awarded a place with the NRW team Anthony said "I am extremely grateful to Natural Resources Wales for offering me this opportunity; I cannot describe how excited I am about the coming year. The support I have received from IBERS has been remarkable; the education and effort contributed by staff has been truly invaluable in the success of my application. This experience will be a key stepping stone to acheiving my ambition of working in conservation within the marine and freshwater environment."
, Anthony's year one and two tutor says "Anthony's placement is well deserved. I have no doubt that his intelligence, experience, maturity and interpersonal skills made him the ideal candidate for the position. I wish him all the best in Bangor and am looking forward to seeing him back in Aberystwyth in September 2015."
Anthony's success in obtaining this scholarship demonstrates the high calibre of IBERS and Aberystwyth University undergraduate students. It will provide Anthony with valuable work experience alongside some of Wales' best marine surveyors utilising the latest technology. Previously this placement has led to employment within Natural Resources Wales once the student has graduated.