Doctor Who got it wrong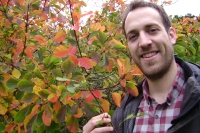 IBERS' First Year Plant Biology student Mark Morgan with leaves - more mobile ones just don't get eaten.
"Trees have no moving parts and they don't communicate" - IBERS students beg to differ with Dr Who
Saturday's episode of Dr Who entitled 'In the Forest of the Night' saw the people of the world wake up one morning to find the entire planet covered in trees.
Whilst trying to decipher what this means for the future of humanity the Doctor made the following statement "Sadly, trees have no moving parts and they don't communicate."
A group of first year plant biology students at IBERS, Aberystwyth University have proved the Doctor's statement incorrect by finding that trees have the ability to literally shake insects from their leaves through leaf movement in the wind in order to avoid insect damage.
The students looked at a variety of trees on Penglais Campus and found that leaves with longer stalks have less insect damage than leaves with short stalks.
Dr John Warren, lecturer and IBERS Director of Learning and Teaching says "In the future, we suggest Dr Who looks as closely at trees, as IBERS students do at Dr Who!"
Dr Warren is about to publish a paper on this topic and he hopes to include the student's new findings.