Dr David Whitworth presented with Fellowship Award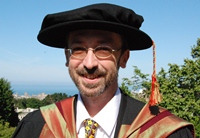 Dr David Whitworth
Dr David Whitworth received his Learning and Teaching Fellowship Award last week and has been recognised for the exceptional contribution he has made to teaching and learning at the University.
Every year, Aberystwyth University awards Learning and Teaching Fellowships to members of academic staff who have excelled in their field.
Five Fellows were presented with their Award during this year's Graduation Ceremony which took place from 14-18 July 2014.
Dr Whitworth from the Institute of Biological, Environmental and Rural Sciences (IBERS) joined Aberystwyth University in 2007 as a Lecturer in Biochemistry, and was promoted to Senior Lecturer in 2012.
While at Aberystwyth, Dr Whitworth has been responsible for Biochemistry and Genetics and his research interests include molecular genetics, social signalling and protein biochemistry in bacteria.
He explains, "My teaching focuses on practical skills and science communication, which I see as key to employability in the biological sciences. I try to teach and assess students in innovative ways, to stimulate their independence, creativity and experience.
"This Award is a welcome endorsement of my teaching, and it will allow me to further enhance biochemistry teaching at Aberystwyth, strengthening the relationship between the research lab and classroom even more."
The other four academic members of staff to have been presented included Dr Antonia Ivaldi, Department of Psychology, Nitin Naik from the Department of Computer Science, Graham Lewis from the Centre for the Development of Staff and Academic Practice and Professor Len Scott from the Department of International Politics.
The aim of the scheme is to raise the profile of teaching or support for learning at the University and recognise an individual's local and wider influence on the teaching community.
Professor Tim Woods, Director of the Institute of Education, Professional and Graduate Development at Aberystwyth University and Chair of the Awards Panel explains, "These individuals have made a significant contribution to teaching and learning at the University and have gone above and beyond the call of duty on several occasions.
"These are the staff who are our principal champions of learning and teaching and who often inspire innovation and disseminate cutting edge practices within the University.
"Each Fellow has been awarded £1,200 to support them in order to continue with their professional development in teaching or learning."
A Learning and Teaching Enhancement Fund is also available for projects that improve learning and teaching and involve more than one academic department or has uses across departments.
The Fund focuses on areas highlighted in the Aberystwyth / Bangor Learning, Teaching and Widening Access Strategy and offer up to a maximum of £2,000 per project.
Dr Hannah Dee from the Department of Computer Science, Dr Sarah Riley from the Department of Psychology and Richard Williams and Dr Stephen Tooth of the Department of Geography & Earth Sciences were all successful with their bids.