Pwllpeiran Upland Research Platform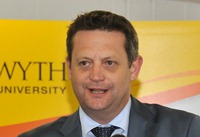 Welsh Government Minister for Natural Resources, Alun Davies
Alun Davies, Welsh Government Minister for Natural Resources and Food today officially announced the initiation of Pwllpeiran Upland Research Platform in Ceredigion.
The platform will be developed by Aberystwyth University's IBERS, supported by £2.5million investment from the BBSRC (Biotechnology and Biological Sciences Research Council).
Pwllpeiran has been a research centre since the 1930s, working to improve the viability of farming the uplands of Wales.
With increasing emphasis on food quality and provenance, and pressure to manage land in a way that is sensitive to the environment, the science of agriculture has a key role to play.
This commitment to a new era of upland farming research is being welcomed across the agri-food sector.
Alun Davies said; "I am delighted that IBERS have successfully secured the lease on the Pwllpeiran farm estate. This is a real opportunity for IBERS and its partners to develop a vibrant upland research platform here in mid Wales.
"The platform will be a real asset to the area and to Wales more broadly and I am confident it can play a major role in my work to develop a Welsh agriculture sector that is modern, sustainable and resilient."
Professor Wayne Powell, IBERS Director said; "The challenges of food security, greenhouse gas reduction and protection of biodiversity require informed and improved use of the uplands through the development of new plants and animal systems. Innovative, science-driven approaches will be developed to meet these challenges, and as such IBERS is exceptionally well positioned to lead the UK uplands agenda."
The Pwllpeiran Upland Research Platform will focus on future opportunities for the benefit of the upland farming community throughout the UK and beyond.
The Pwllpeiran Upland Research Platformt will form part of the imminent development of the Aberystwyth Innovation and Diffusion Campus.
Professor April McMahon, Vice Chancellor said: "Today's initiation of Pwllpeiran Upland Research Platform by the Minister is an exciting kick start to our plans for the associated Innovation and Diffusion Campus. We look forward to working in partnership with the BBSRC in delivering both projects, further enhancing our strong working relationship.
"These new developments will enhance our joint working with business, including accommodating start-up companies, and allow us to offer new interdisciplinary training. All these benefits are closely linked to the aims of our Strategic Plan, and will further develop the appeal of this exceptional part of Wales."
The development of the Aberystwyth Innovation and Diffusion Campus has been made possible by a £14.5m investment from the BBSRC which was announced at the launch of the UK Government's Agricultural Technology Strategy in July 2013.
Contributions from other stakeholders, including Aberystwyth University, are expected to bring the total investment in this project to over £35m.
The uplands in Wales encompass 80,000 hectares, and this natural resource provides essential services including water, food, fuel, carbon sequestration, wild-life habitats, biodiversity havens, flood alleviation and recreational space.
The proposed Pwllpeiran Upland Research Platform will represent a unique catalyst to mobilise the resources of IBERS and other UK research providers to find solutions to challenges including:
• Environmentally friendly farming systems whilst providing farmers with sustainable incomes.
• Methods of benchmarking sustainable production and valuing biodiversity in the uplands.
• Sustainable local food supply chains that allow traceable products of known provenance to be supplied to consumers.
• Value added products that utilise current advances in science to allow farmers to provide high specification products into the supply chain.
• Animal production systems that minimise their environmental footprint by incorporating modern innovations in feeding, management and genetics.
• Management tools that allow upland agriculture to be visualised and managed in a way that ensures benefits are maximised and costs, both financial and environmental, are minimised.
• An evidence base to support well-informed, validated policy development.
AU3714