Foundation degree in agriculture launched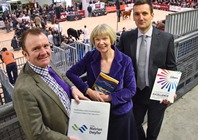 Aled Jones-Griffiths, Coleg Meirion Dwyfor, Professor April McMahon Vice-Chancellor of Aberystwyth University and Gareth Jones of Coleg Cambria. The new programme was launched at the Royal Welsh Winter Fair.
Coleg Cambria and Grwp Llandrillo Menai have announced plans to jointly deliver a bilingual Foundation degree in Agriculture.
The FdSc Agriculture is a franchised course validated and awarded by Aberystwyth University – IBERS (Institute of Biological, Environmental and Rural Sciences) and delivered at the colleges' sites in Llysfasi and Glynllifon from September 2015.
This part-time Foundation Degree will combine academic and work-based learning and is designed to appeal to those who wish to enter the Agriculture profession, as well as those seeking continuing professional development.
The four year course will run one day per week for 36 weeks per year, with teaching time split equally in six week blocks between the Glynllifon campus and the Llysfasi site. This enables students to get the best facilities and teaching resources from both sites.
Upon successful completion of the Foundation Degree, students may progress onto the second year of an Agriculture Honours Degree scheme, including the BSc (Hons) Agriculture at Aberystwyth University.
Professor April McMahon, Vice-Chancellor at Aberystwyth University said; "Aberystwyth University is one of the UK's leading centres for the study of Agriculture and a world leader in research, and we are delighted to mark the launch of the new bilingual foundation degree in partnership with Coleg Cambria and Grwp Llandrillo Menai.
"Generations of young people aspiring to work in the agricultural industry have benefited from the excellent opportunities offered at Aberystwyth University. We were delighted earlier this year when it was announced that, for the second year running, the winner of the National Trust's Llyndy Isaf Scholarship was an Aberystwyth graduate.
"We very much hope that this new programme will inspire a new generation of young people to fulfil their potential and progress on to university. They will benefit as individuals, as will the agricultural sector in Wales."
David Jones, Prinicpal and Chief Executive of Coleg Cambria said; "We are delighted to be working in partnership with Grwp Llandrillo Menai and Aberystwyth University on this exciting new foundation degree in Agriculture.
"Our Agriculture courses in Llysfasi have been very successful over a number of years and we hope that this new foundation degree will offer an excellent opportunity for learners who want to progress and study at a higher level whilst also continuing to work in the farming industry."
Aled Jones-Griffiths, Assistant Principal at Coleg Meirion Dwyfor added; "This Higher Education course provides tremendous opportunities for students from the local agricultural community to build on the excellent experiences already received at Glynllifon. This can only be of benefit to the Agricultural sector and their own businesses".
Open Evenings have been arranged at Llysfasi and Glynllifon on Wednesday January 28 2015 between 4.30 and 6.00pm for those interested in further information about the degree.
AU52714