Success for Aberystwyth University in REF 2014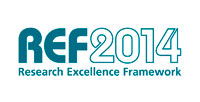 REF 2014
Aberystwyth University has significantly improved the quality of its research in the Research Excellence Framework (REF) 2014.
The results report that 95% of the research activity submitted by Aberystwyth University is of an internationally recognised standard or higher, with world leading research (4*) identified in all 17 of the Units of Assessment submitted.
The REF replaces the previous Research Assessment Exercise, last carried out in 2008. However, the REF now also measures the impact of research, through a range of specially produced case studies; these demonstrate whether research is really making a difference. This means the results for 2008 and 2014 cannot be compared exactly, though both involved assessing the quality of publications by academic staff.
Aberystwyth University performed particularly strongly in terms of impact, with an overall Grade Point Average (GPA) of 3.1, meaning research conducted at the University has considerable reach and significance. When measures of impact, quality of publications and research environment are combined, and the number of staff submitted is taken into account, Aberystwyth ranks in the top 50 out of 154 in the UK. When small and specialist institutions are removed from consideration, Aberystwyth ranks 37th in the UK by this same measure of 'research power'. The University is also in the top 50 for the percentage of top-rated, world leading 4* research.
Professor April McMahon, Vice-Chancellor at Aberystwyth University, welcomed the results of REF 2014, commenting that: "This is great news for Aberystwyth, and I congratulate academic colleagues across the University on their excellent performance. Impact is only going to become more important in future exercises of this kind, and our highest achievement is in this area. Overall, we have also seen a real improvement in research undertaken at the University from a 2.48 Grade Point Average (GPA) in the 2008 RAE to 2.84 in REF 2014. This demonstrates that our policy of rigorous research monitoring worked well, with an increase in 4* and 3*, and a substantial reduction in 1* and unclassified research."
The University submitted research into 17 Units of Assessment, with two being jointly submitted with Bangor University, as part of the Aberystwyth and Bangor Universities' Strategic Alliance. Nearly 25% of the total number of staff submitted to the REF from all disciplines across both Universities were included in these two joint submissions. Aberystwyth also had the largest Welsh medium submission to REF.
Professor McMahon continued: "Even with much more demanding standards for submission, the University returned more staff than ever before as part of REF 2014 – so we set the bar much higher, but more people managed to clear it. This means Aberystwyth submitted an excellent 77% of eligible staff for REF, a total of 322 individuals."
"We have invested heavily in our staff and research facilities, and it is terrific to learn that the University's overall impact result is at a level considered to be internationally excellent. We have a clear strategy to build on for the next REF, and work to do in a number of areas, but also a range of outstanding performances. We also send our warmest congratulations to colleagues across the sector, and to Cardiff in particular with whom we work on a range of research projects, for their excellent performance as a Russell Group University."
Particular areas of research excellence were reported in the Departments of International Politics, Geography and IBERS. The Department of International Politics, being the top in Wales, demonstrated an improvement in its comparative performance and has 44% of its research as world leading (4*), and 32% as internationally excellent (3*). With a GPA score of 3.18, the Department is now ranked 7th in the UK. 
The Department of Geography and Earth Sciences also retains its position as the best in Wales, with 78% of research considered to be internationally excellent or higher.
IBERS submitted joint research submissions into two Units of Assessments, and both reported excellent results.
The top performers for impact were the School of Art, Department of Geography and Earth Sciences, Department Computer Science, with 100% of their impact assessed at the top 3* and 4* level.