IBERS delivers food security training to Chinese Universities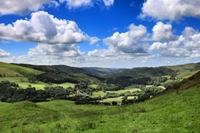 Tomorrow (5 December), a team of academics from Aberystwyth University's Institute of Biological, Environmental and Rural Sciences (IBERS) will deliver a workshop to 17 delegates from various Chinese Universities on livestock and crop production issues facing the Chinese agriculture industry.
With a growing population, there is a necessity for Chinese government and agriculture in particular to meet the needs of that population safely and sustainably.
The workshop will highlight the extensive research and expertise currently taking place at IBERS such as plant breeding and phenomics, feed efficiency and sustainability.
The day has been organised by UK China Training and will include a presentation by IBERS' Professor Kevin Shingfield, Alan Gay and Martine Spittle.
Professor Shingfield holds a chair in Nutritional Physiology at IBERS. He will be discussing the challenges facing ruminant livestock production, the concepts of feed efficiency and the opportunities available to exploit genetic resources for more sustainable ruminant production from forage.
He explains, "Our research is directed towards providing a platform for science-based innovations in the ruminant livestock sector, which has the potential to benefit farmers and consumer in the UK and internationally."
Martine will be there to highlight the potential of distance learning for Chinese agriculturalists and says "Distance learning in China is in its infancy. I hope to inspire them with the excellent quality of our agricultural modules."
Alan Gay will present the grass breeding research currently taking place at IBERS, what the challenges and problems are and how grass breeding can be part of the solution.
A group from UK China Training aims to visit IBERS in October 2015 to participate in further training days and workshops.
AU53214