Seeds of potential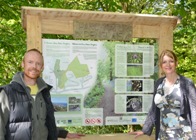 Ben Sampson and Dr Elaine Jensen at the information panel
A new display panel recently unveiled at Parc Natur Penglais by scientists from the Institute of Biological, Environmental and Rural Sciences (IBERS) at Aberystwyth University and Conservation Officers at Ceredigion County Council illustrate that the reserve is not only a shelter for wildlife and a tranquil place for people, but that plants within it are important subjects for research.

Ben Sampson, Conservation Officer at Ceredigion Council explains: "Penglais Woods have provided a haven for wildlife and a quiet respite from the bustle of town for generations, but its use as a resource for researchers is perhaps less well known. Thanks to our collaboration with IBERS we can now see how some of the wild plants found on our doorstep might help society in novel ways in the future."

"It has also been great to strengthen the links between Parc Natur Penglais and our neighbours, the University, during the creation of these new information boards."

IBERS scientist Dr Elaine Jensen added: "Plants you might see in the Parc include clover and bluebells. From clover we can isolate chemicals called isoflavonoids, which have estrogenic properties and can be used to treat menopausal symptoms. Bluebell seed contain a number of biologically active compounds, some of which can be used in cosmetics."

The possibility of using plant biomass in a renewable and sustainable way to provide replacements for products we currently get from fossil fuels, such as liquid fuels, energy for heat and power, plastics, and chemicals, is an increasingly important area in the face of climate change. Research undertaken at IBERS is providing us with more and more knowledge to help make this a reality.

"Ryegrass can also be found in the Parc. It is rich in sugars, which can be converted into liquid transport fuels, or products such as bioplastics. There are also many types of biomass-degrading fungi here. We are interested in the enzymes they produce to break down the tough chemical bonds that hold woody plants together to produce simple building blocks that we can use to formulate new products such as transport fuels and plastics" explained Elaine.

Parc Natur Penglais, which was officially declared a Local Nature Reserve in 1995, is managed by Ceredigion County Council in partnership with an active local support group. It has received recognition as the only UNESCO Man and Biosphere urban reserve in Wales, won a Prince of Wales Award in 1993 and has held a prestigious Green Flag Community Award since 2011.

Although it can feel wild, work is needed to keep the reserve so special. In the woodland, trees have been thinned to increase light reaching the forest floor. Ancient dry-stone walls have been repaired and footpaths improved. Where trees have died or been felled, piles of logs and brushwood have been left to encourage invertebrates and fungi to flourish, and nest boxes provide a home for birds to raise their young.

The open space of the quarry greatly increases the variety of wildlife that the reserve supports and it is a constant battle to prevent it from becoming covered by scrub and trees.

Springtime is a particularly rewarding time to visit, with the trees full of birdsong and the woodland floor carpeted with bluebells, although there is always something to see.

The oak frames for the panels have been made by local craftsmen. The panels were funded by the Biotechnology and Biological Sciences Research Council (BBSRC).