Pwllpeiran writers in residence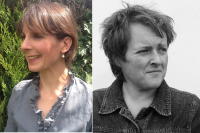 Elizabeth Godwin and Karen Owen
Two poets, Elizabeth Godwin and Karen Owen, have been announced as the Pwllpeiran Writers in Residence.

The two-month posts represent a collaboration between the Institute of Biological, Environmental and Rural Sciences (IBERS) and the English & Creative Writing Department at Aberystwyth University.
Funded by IBERS, the programme which starts on Thursday 1 August will provide both Karen and Elizabeth with the freedom to explore and trace the history and heritage of Pwllpeiran, which will be known as the Welsh Upland Research Centre (WURC).

This announcement comes hot off the heels of a recent investment worth £2.5m towards the WURC, which aims to transform the research centre into a world class upland research facility and will help realise IBERS' ambitions for sustainable agriculture in Wales.

Karen Owen is a poet and journalist and is the winner of the Welsh language writer in residence competition. She said; "I have a particular interest in bridging the great divide between the world of science and the Welsh literary world, and I'm looking forward to recording and responding creatively to research that happens at Pwllpeiran.

"Moreover, I think that the history of Thomas Johnes of the Hafod Estate is a fascinating one, and the picturesque remnants are still there to inspire and remind visitors of the great contribution that this man made."
Elizabeth Godwin has been awarded the English language writer in residence prize. Elizabeth teaches English at Abbots Bromley School in Staffordshire and is currently studying for her PhD at Aberystwyth University.
She says; "I am delighted and completely astonished, to have received this award. It is thrilling to be part of such an exciting project with IBERS and the English Department at Aberystwyth University.

"To have received such an invitation to make a contribution to the issues of sustainability and the environment, as well as have the occasion to develop my literary preoccupations with the ecology of landscape, is hugely important for me. This residency will, I'm sure, take my work in very different and challenging directions."

The residencies, both of which are £3,000 IBERS funded posts, will take place between August and September of this year and will play a crucial role in recording an important part of IBERS' history.
Professor Wayne Powell, Director of IBERS, explains, "Food production and sustainability of the uplands are inter-connected and deeply rooted in culture, language and society. This inter-disciplinary initiative reflects our commitment to rural communities and the need to be advocates for broad public engagement to inspire awareness and reflection on major societal challenges and opportunities."

Dr Kath Stansfield from English and Creative Writing and Dr Hywel Griffiths from the Institute of Geography and Earth Sciences at Aberystwyth University were the Pwllpeiran Writers in Residence competition judges.
Dr Stansfield explains, "These residency posts offer a fantastic opportunity for writers to be involved in vital dialogues about sustainability, land use, and food security, as well as the history of Pwllpeiran and its important cultural heritage.
"Through working with community groups, local residents, and those working at the WURC, the writers will bring people together to explore this fascinating site, and develop their own creative work in interesting new directions."

The £2.5m Pwllpeiran investment forms part of a bigger investment worth £35m in the new innovation and research campus at Gogerddan, the Aberystwyth Innovation and Diffusion Campus (AIDC).