Aber graduate is first ever female Fferm Ffactor champion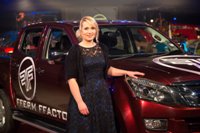 Gwenno Pugh
Aberystwyth University graduate Gwenno Pugh has been declared the winner of the popular S4C TV series Fferm Ffactor 2013 – becoming the first female contestant in the show's five year history to take the Fferm Ffactor title, and completing a hat trick of students from the University, with Malcolm Davies winning in 2011 and Dilwyn Owen in 2012.
Gwenno, 28, who farms sheep, cattle and pigs with her husband on her farm in Talsarnau, Gwynedd, drove away with the main prize after the final on the 4th December- a brand new Isuzu D-Max Yukon 4x4 pick-up truck.

Dr Iwan Owen, Lecturer and Course Manager of the Agriculture degree schemes at Aberystwyth University's Institute of Biological, Environmental and Rural Sciences said " Gwenno was a very capable, hard - working student who had followed a vocational route into higher education and graduated in 2007 with a very good BSc (Hons) degree in Agriculture, and the time she spent in the USA during her work experience certainly broadened her horizons as well as demonstrating her determination and commitment.

Nevertheless, the quiet graduate of 7 years ago was hardly recognisable as the supremely confident and articulate woman who appeared on Fferm Ffactor and demonstrated her extensive knowledge of the industry as well as a wide range of practical skills.
We are really proud of Gwenno's achievement and hope that we at Aberystwyth at least played some small part in making her the ambassador for farming that she so clearly is."

From the very start of the competition Gwenno declared her desire to see a female contestant reach the Fferm Ffactor final and throughout the series she was praised regularly by Fferm Ffactor judges, Aled Rees and Professor Wynne Jones, for her all-round ability.
"I didn't expect this at all, I was hoping to become the first female contestant to reach the final but to go one extra step and actually win is an unbelievable feeling," says Gwenno.
"It's been an unforgettable journey and I've made many new friends. It's such a privilege to become the first woman to win Fferm Ffactor," says Gwenno.

As well as looking for someone who could perform strongly throughout the competition the judges were also looking for a role model who would serve as a good ambassador to the agricultural industry:
"Gwenno has been a strong contender throughout the series, she has come out on top regularly and has finished the series in style," said Fferm Ffactor judge Professor Wynne Jones.