IBERS seeks new agri-tech partnerships to bolster food security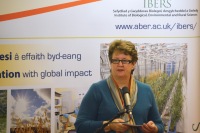 Heather Jenkins speaking at the IBERS breakfast at the Winter Fair
Such partnerships will help drive forward the wider adoption of existing technologies while helping develop new ways of working for the future. This will help improve on farm productivity at home, while also contributing to global food security and international development.
The UK government strategy for agricultural technologies ( Agri-Tech) launched earlier this year states that the UK's science base and food and farming industries have come together to develop opportunities in UK-driven agricultural technologies.
Professor Wayne Powell, Director of IBERS said at the Royal Welsh Winter Fair: "This is a great opportunity for rural Wales to develop its farming and food base in a dynamic and fast changing environment. At IBERS we are exceptionally well placed to rise to this challenge, but with that comes the expectation that we will deliver solid results. To do this will require total commitment to sustaining relationships with our partners and long term research; to do that successfully we need to be a strong team.
The success of IBERS is firmly built on this foundation of partnerships, and long term mission driven research, focusing on delivery of products that are relevant to business and wider society"
IBERS has been further developing its activity in three key areas in line with what has already been outlined in the Agri-Tech Strategy. These are:
Establishing excellent links with retail partners for supply chains with a customer focus. The relationship with Waitrose is extremely strong. Waitrose Director of Buying MPFD and Agriculture Strategy visited IBERS recently and was impressed by the Institute's work on commercial new plant varieties. Waitrose is constantly looking to add to its customer offer and the work that IBERS is undertaking helps to achieve this by helping drive sustainability at farm level.
Speaking at the IBERS breakfast at the Winter Fair, Heather Jenkins said; "IBERS offers us great examples of what can be achieved when good technology is applied cleverly, with thought and sensitivity. With the Government's Agri-Technology Strategy we have a great opportunity at our fingertips to put British farming R&D back on the global map but we have to take our customers with us.
There is no point being clever if Britain's consumers are suspicious of what we, as an industry, are doing. This is a lesson learned from GM and one that we need to be mindful of whatever we are doing. Having said that, IBERS is doing wonderful things here that consumers will find fascinating given their intense interest in sustainability and provenance. Waitrose is extremely proud to be involved."
Investing in plant breeding programmes, particularly forages. The multi award winning public good plant breeding team at IBERS has a long standing world renowned reputation for excellence, and is home to the BBSRC supported National Plant Phenomics Centre. The team has just added to its list of accolades by winning the Times Higher Education Award for Innovation and Technology on November 28th.
IBERS High Sugar Grasses (AberHSG) have the potential to transform pastoral based livestock agriculture. Independent tests have demonstrated that AberHSG can increase the production of meat and milk by up to 24% and reduce methane emissions and nitrogenous pollutants by up to 20%.
The Aber HSG varieties of perennial ryegrass also provide a source of sugar for conversion into bio-ethanol, providing an opportunity to develop a crop derived liquid transport fuel and reduce our dependency on fossil fuel.
IBERS recently announced a new technical alliance with Wherry & Sons Ltd, the UK based specialist producers of Pulses for food use around the world, and this alliance provides an opportunity to address the current UK protein deficit in animal feedstuffs, and global food security.
Infrastructure - the announcement of a new Aberystwyth Innovation and Diffusion Campus to be built at Gogerddan commencing next year, where new infrastructure and facilities will be developed to attract companies and researchers interested in creating commercially viable new products, based on modern approaches to plant breeding, providing Aberystwyth with a unique opportunity to develop new science that underpins agriculture.