Llyndy Isaf scholarship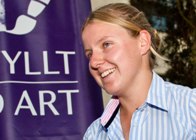 Caryl Hughes
Aberystwyth University graduate Caryl Hughes has been announced as the first winner of the National Trust's groundbreaking Llyndy Isaf scholarship
Caryl, 23, studied agriculture and animal science at Aberystwyth. During the third year of her course, Caryl travelled to New Zealand where she worked on a milk farm for eight months and a sheep farm for 2 ½ months.
Originally from Dyffryn Ceiriog near Llangollen, Caryl was presented with the scholarship at this year's Royal Welsh Agricultural Show.
Winning the scholarship means Caryl will be given the keys to Llyndy Isaf - the iconic 614-acre upland farm in Snowdonia saved for the nation through the Snowdonia Appeal in 2012 – and take control of the farm for a year starting in September.
Speaking to the National Trust, Caryl said that she was both on top of the world and nervous about the challenges ahead of her with this unique opportunity, which she believed would be life changing for her and her dog Mist – who will be moving with her to Llyndy Isaf.
"This is a once in a lifetime opportunity that I intend to take full advantage of", she said. "It's not every day you get the chance to farm a 614-acre farm, especially not at the age of 23 and especially if you are female.
"I'm a bit nervous of taking on Llyndy, it is a daunting challenge, especially because it hasn't been farmed for a number of years, but I'm really excited about it and all the new experiences and opportunities I'm going to get in the next 12 months. I'm really looking forward to working with the National Trust and getting to know the whole team and all of their work – especially in agriculture.
"I don't see it why we can't do it as well as the 'boys', if not better. Women are renowned for being better at multi-tasking, but I'm confident I'll rise to this challenge as well as anyone else. My priorities will be to re-establish a flock here with good grazing management to retain this natural environment around us. That's Llyndy's unique quality and challenge all in one.
"The views in Snowdonia are spectacular and I feel honoured to be allowed to live and work there - but also it's not too dissimilar to home-so maybe that's why it appeals to me. I hope to use the skills and ideas I gain in Snowdonia and adapt them to use at home in the Berwyn when the scholarship is over. I'm sure I will look back on the scholarship with pride, and the skills and experience I gain will live with me forever."
Llyndy Isaf
Llyndy Isaf farm drew international attention when it was saved for the nation in the National Trust's successful one million pound fund-raising appeal last year.
The campaign to acquire Llyndy Isaf was spearheaded by Welsh Hollywood actor Matthew Rhys in his role as Snowdonia Appeal Ambassador.
The Americans series star, who is also a Fellow of Aberystwyth University, said: "When I visited Llyndy Isaf, I could see that such a beautiful and special part of Snowdonia demanded our support. I am delighted that Caryl now has the opportunity to learn a vocation and time-honoured way of life, where she can contribute to the survival, preservation and future of this incredibly important place."
This 'once in a lifetime' offer is the result of an innovative partnership between the National Trust and Wales YFC.
Applications were invited from all Wales YFC members. The scholarship was designed to encourage the successful candidate to develop key skills and broaden their knowledge of the industry.
The winning scholar will have the opportunity and responsibility of managing all aspects of running the farm including form filling, stock management and practical work.
"This exciting, innovative partnership between ourselves and YFC is a fantastic opportunity for a young farmer to experience what it is like to run an upland farm", said Trystan Edwards, our General Manager for Snowdonia and Llyn.
"We are all really looking forward to working with and mentoring Caryl over the next 12 months, to help build her confidence and skills in stock management, business, and practical management through formal and informal training as well as work experience."