£2.5m for Pwllpeiran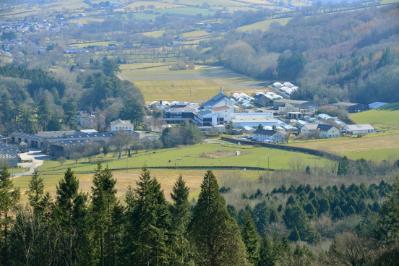 The plan is for Pwllpeiran to become part of the new Aberystwyth Innovation and Diffusion Campus at Gogerddan
Plans for the redevelopment of the Pwllpeiran research station in Ceredigion by the Institute of Biological, Environmental and Rural Sciences (IBERS) at Aberystwyth University are a step closer following an announcement by the Biotechnology and Biological Science Research Council (BBSRC) that it will invest £2.5m to support the project.
Pwllpeiran has been a research centre since the 1930s, working to improve the viability of farming the uplands of Wales.
Professor Wayne Powell IBERS Director said; "We welcome this financial commitment from the BBSRC, and the vote of confidence in IBERS' ability to create a world class upland research platform. IBERS is exceptionally well positioned to grasp this opportunity to lead the UK uplands agenda."
The redevelopment of Pwllpeiran is subject to the final lease being agreed with Welsh Government.
Speaking at the Royal Welsh Show in Llanelwedd in 2012, the then Welsh Government deputy agriculture minister Alun Davies said that IBERS had made "viable proposals" to take over the running of the farm.
Mr Davies said: "It is an exciting development which I'm sure will be welcomed by the local community, farmers and researchers alike. The retention of the farm as a research facility is the outcome most beneficial to the farming sector and will help realise our ambitions for sustainable agriculture in Wales."
The uplands in Wales encompass 80,000 hectares, and this natural resource provides essential services including water, food, fuel, carbon sequestration, wild-life habitats, biodiversity havens, flood alleviation and recreational space.
The challenges of food security, greenhouse gas reduction and protection of biodiversity require better use of the uplands and the development of new plants and animal systems to enable achievement of government targets.
There is a need for innovative, science-driven approaches to meet these challenges.
The proposed Pwllpeiran Upland Research Platform will represent a unique catalyst to mobilise the resources of IBERS and other UK research providers to find solutions to challenges including:

• Environmentally friendly farming systems whilst providing farmers with sustainable incomes
• Sustainable local food supply chains that allow traceable products of known provenance to be supplied to consumers.
• Value added products that utilise current advances in science to allow farmers to provide high specification products into the supply chain.
• Animal production systems that minimise their environmental footprint by incorporating modern innovations in feeding, management and genetics.
• An evidence base to support well-informed, validated policy development.
The Pwllpeiran development will form part of the Aberystwyth Innovation and Diffusion Campus, plans for which have also been announced by Aberystwyth University today, Monday 22 July.
The Aberystwyth Innovation and Diffusion Campus has been made possible by a £14.5m investment from the Biotechnology and Biological Sciences Research Council (BBSRC) announced today (Monday 22 July) by David Willetts MP, UK Minister for Universities and Science, at the launch of the UK Government's Agricultural Technology Strategy.
Contributions from other stakeholders, including Aberystwyth University, are expected to bring the total investment in this project to over £35m.
AU27413