IBERS Student awarded Biochemical Society Prize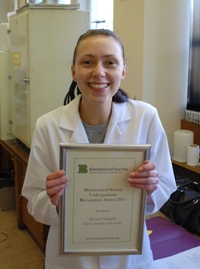 Naomi Stupple
The prize was won by second year student Naomi Stupple. Naomi was selected to receive the prize after scoring the highest mark in the first semester biochemistry module 'Understanding Proteins and Enzymes' and for obtaining excellent marks across her first year biochemistry modules.

, Senior Lecturer in Biochemistry and Local Ambassador of The Biochemical Society (www.biochemistry.org) said "Naomi has made excellent progress in her studies, and this award is a fitting recognition of her achievements. It's a real pleasure to see public recognition for excellence in the pursuit of biochemistry."

Naomi is studying for a BSc in Genetics and Biochemistry, a degree programme that attracts several high-calibre students to Aberystwyth each year. Last year the Biochemical Society prize was awarded to Michal Flak, who was also studying Genetics and Biochemistry.

In addition to a BSc in Genetics and Biochemistry (CC47), IBERS also offers degree programmes in Biochemistry (C700) and Genetics (C400).