Aberystwyth Luminescence Research Laboratory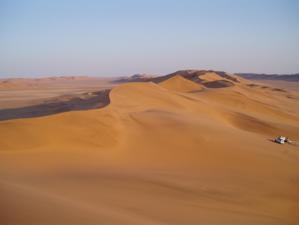 Luminescence dating has become a widely recognised and important tool in deciphering Quaternary issues. It is applicable to sedimentary deposits ranging from a few hundreds of years old to several hundred thousand years old. The Aberystwyth Luminescence Research Laboratory has been at the forefront of luminescence research for the last 30 years. The laboratory was created in 1989 by Professor Ann Wintle, and since 2000 has been run by Prof Geoff Duller and Prof Helen Roberts. Members of the laboratory have pioneered many major advances in the field in the last two decades, and they continue to undertake a mixture of:-
(1) fundamental research to understand the physics of the luminescence process in minerals,
(2) the design of equipment and procedures to measure these signals
(3) development of software to analyse and process data
(4) the application of the technique to Quaternary issues
Training
Software
Research
An easily accessible summary of how luminescence dating works, and some examples of how the method can be applied was written by Prof Geoff Duller for English Heritage (Luminescence Dating - Guidelines on using luminescence dating in archaeology (PDF)) and is freely available for downloading.
ALRL is running a specialist course entitled "Luminescence Dating:Theory, Methods and Application" that will next run 8-12th November 2021. This course is aimed at postgraduate students and academic staff who are interested either in applying luminescence dating as part of their research, or who will be utilising luminescence data produced by other people and wish to understand more about what is involved in the technique. Places can be booked by contacting Prof Helen Roberts (hmr@aber.ac.uk).
The Aberystwyth Luminescence Research Laboratory was also responsible for publishing Ancient TL (a journal dedicated to disseminating knowledge about luminescence and electron spin resonance dating) for the period from 2004-2014.
| | | |
| --- | --- | --- |
| People in ALRL | PhD students | Research Staff and Technical Staff |