Information for Schools & Colleges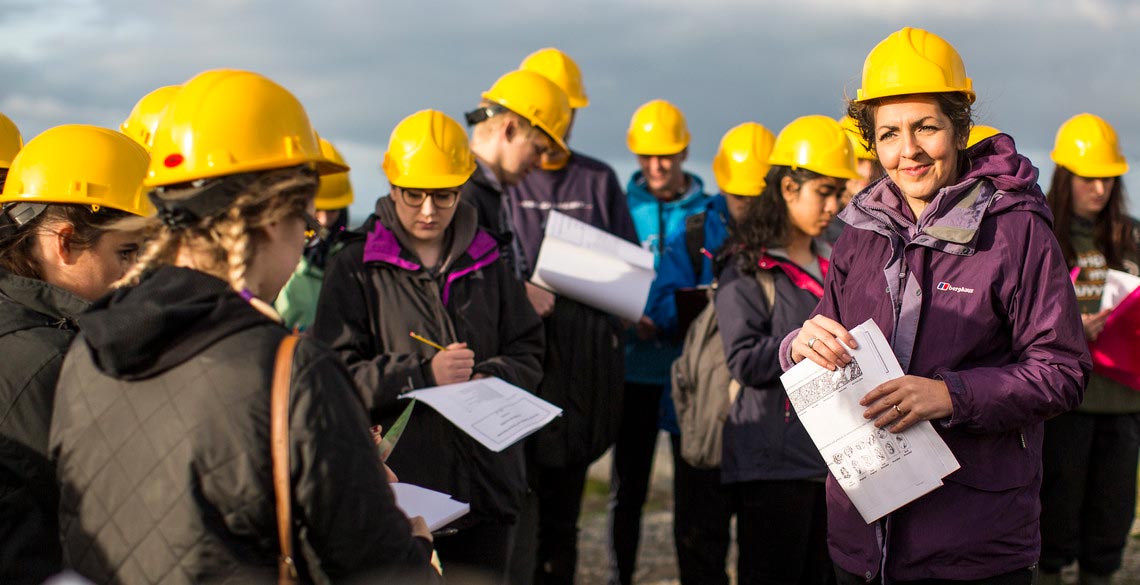 In the Department of Geography and Earth Sciences we are dedicated to providing outreach and public engagement events to schools and colleges across the UK.
We have a comprehensive school and college liaison programme designed to enrich the GCSE and A-level curricula, providing a range of resources to students of Geography, Geology, Environmental Studies and Sociology.
The topics we offer include:
Climate change
GIS and remote sensing
Atmospheric circulation
Fluvial processes
Plate tectonics
Natural hazards
Glacial landscapes
Urban and rural geography
Population change
Globalisation and development
Sustainability.
Our staff of world-leading researchers in physical and social sciences would also be happy to work with you and your staff to construct bespoke presentations as needed.
For further information, please contact Professor Mark Whitehead on msw@aber.ac.uk.
Aberystwyth Geography and Geology Field Course Hub
The Aberystwyth Geography and Geology Field Course Hub is an ideal base for schools and colleges who offer fieldwork components for Geography, Geology, Environmental Studies and similar topics at GCSE and A-Level.
Our location and fieldwork destinations
Aber (Welsh for mouth of a river and pet-name for the town) is a small, welcoming community in west Wales. It is nestled between the Cambrian Mountains to the east, the Pembrokeshire National Park to the south, Cardigan Bay to the west, and Snowdonia National Park to the north. As such, the FCC is ideally placed within Wales and indeed, the southern UK, with access to a wide range of physical, human and environmental features.
Many field locations are within walking distance of the town and the University's main Penglais Campus, and many more are just a short drive away. Other destinations can be reached within an hour's drive, including the classic glacial landscapes of Cadair Idris and Snowdon, and the awe-inspiring Elan Valley.
Aberystwyth itself also benefits from being a vibrant and cosmopolitan University town, as well as being sufficiently physically diverse to host a broad range of practical activities within a relatively small area.
What we offer
We are proud to be able to offer GCSE and A-level groups a chance to explore our wonderful surroundings, and take advantage of Aberystwyth University's competitively-priced accommodation and meal packages. Furthermore, we can offer expert guidance and opinion from our lecturing staff in any of the above topics, and are happy to discuss fieldwork opportunities and logistics with you. We can also provide fieldwork support (including equipment loans), as well as laboratory space, computer facilities and seminar rooms for preparatory sessions and fieldwork data analysis.
Contact us
To discuss your fieldwork opportunities, logistics and costs, please contact Professor Mark Whitehead on msw@aber.ac.uk
Further information on local field destinations can be found on the Schools page, with information about accommodation options available on our Accommodation page.
Additional local information of interest
Get into Geoscience Wales
Thinking of a degree in the geosciences (Physical Geography, Earth and Environmental Sciences)? Wondering what the career prospects are? Not sure what geoscience is? Come join us to find out more! Get into Geoscience Wales is a bilingual outreach initiative designed to introduce Year 12-13 pupils to the geosciences, demonstrating the world of careers available to graduates, and providing a flavour of what a day in a geoscience degree may hold. This event is open to all cis and trans women and non-binary people who are comfortable in a space that promotes women.
Find out more and apply on the Get into Geoscience webpage.
Geomorphology Virtual Tours
Welcome to the our virtual field tours! Within the tours, you can rotate each picture for a 360 degree view of the landscape, click on photos and explanations of the visible features, and move on to the next 'scene'. Each scene is numbered, so you can visit them in sequence. Or, by clicking on the button on the right of the screen, a map will open where all the available 'scenes' are shown – clicking on these will take you to the scene. Bilingual information and photographs are simultaneously available in Welsh and English in each scene.
These are 'test' versions of the tours, and we'll revisit them, and create new tours over the based on feedback from you! Therefore, if you have any feedback on style or content please contact via email (hmg@aber.ac.uk) or Twitter (@HywelGriffiths). Is there enough information, or too much? Would you like to know about any other aspects of the landscape? Do you have any technical recommendations? Please let us know!
We are very grateful for the support of the British Society for Geomorphology via an Outreach Grant, Aberystwyth University's Department of Geography and Earth Sciences, the Department of Natural and Built Environment at Sheffield Hallam University and the Coleg Cymraeg Cenedlaethol. We are also grateful to Natural Resources Wales and other landowners for their support.
We hope that these virtual tours will inspire you to visit the sites in the future. Parts of some sites are on private land and/or are Sites of Special Scientific Interest in the care of Natural Resources Wales. Elements of the sites are vulnerable to damage. Please make sure you stick to public rights of way, follow any specific or general rules for each site, or that are in place nationally at any time, and be sensible when it comes to health and safety measures. All photos are copyright of the contributors below.
Enjoy!
Hywel Griffiths, Jonathan Bridge, Marie Busfield, Naomi Holmes, Tris Irvine-Fynn, Dewi Roberts, Stephen Tooth
Cors Caron:
Cwm-du:
Ynyslas:
Tanybwlch:
Grogwynion:
Pontarfynach/Devil's Bridge: