Thomas Fillis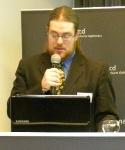 Thomas graduated with a BSC (Econ) in European Studies and German in 2011. He is now working with the EU in Brussels.
What do you remember most about your time at Aber?
Mornings/afternoons working in the Hugh Owen Library, then socialising in the Union when work and assignments had been completed. Walks along the seafront, BBQ's on North & South Beach; spending time with friends in the cafes, restaurants, bars, pubs and clubs or running Socials; lectures in the "Interpol Building" and reading German on the beach on sunny days; day-trips to Shrewsbury or Aberaeron; joining University sports-teams and events such as super-teams; taking part in organisations such as the Aberystwyth Centre for European Studies; meeting like-minded people; enjoying the safety, serenity and liberal atmosphere of Aber.
What are you doing now career-wise and how has your Aberystwyth Degree helped?
After working for an NGO in the area of diplomacy in Berlin for the first year since graduation, I am just about to complete an MA in European Public Affairs at Maastricht University and am two weeks away from starting a paid internship in Brussels working in EU affairs. Aber helped me get where I am now by the excellence of its academic departments and staff. In my time in Aber I developed the confidence to speak in public, deal with other languages, working in multi-lingual situations, prepare research papers and long documents such as a final year dissertation. I would never have been hired by an international office in Berlin without this. Aber also gave me the hunger to learn which made me decide to do an MA. I wouldn't be where I am without Aber.
What advice would you have for a student doing your course now?
Enjoy every second of it, because it's gone in a flash. Don't panic at difficult language assignments or the length of a dissertation but enjoy the challenge and experiences of a bachelor programme. Use the world-class university facilities to their full advantage and enjoy the friendliness of the staff. On a broader note, just love the place that keeps on loving and when it comes to leave, use the skills and character you've built-up over your time in Aber to keep going on and having amazing experiences.