Sam Griffiths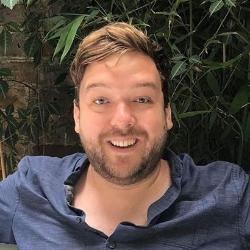 Sam graduated in 2014 with BSc International Politics and Intelligence studies from Aberystwyth University.
He went on to study a Masters in Stage & Event Management from the Royal Welsh College of Music & Drama.
Now, Sam is a Senior Promoter at Cuffe & Taylor, part of Live Nation, the world's largest live entertainment company.
He is one of the youngest promoters in the business. He produces and promotes music concerts for international best-selling artists, as well as working with global television and film companies to create live content from their international hit titles.
Previously, Sam worked as a Senior Programmer at the Ambassador Theatre Group, the biggest theatre owner, operator and producer globally. Whilst there, he programmed the tours of leading musical theatre productions and plays throughout the UK.
Sam has experience across the live entertainment business as a musical theatre producer as well as working for the UK's leading talent agency United Agents.
He is a regular guest speaker on the Musical Theatre and Stage & Event Management degree courses at the Royal Welsh College of Music & Drama.
How has your time in Aberystwyth helped you now in your career?
It gave me the opportunity to meet a huge variety of people and learn so much from my specific course of study, which has massively helped me in my professional development.
The SU and the Curtain Call Musical Theatre society gave me a place to build my skills in theatre production and concerts. I met like-minded people from a whole range of university courses, many of whom I work with professionally today!
What advice would you have for a today's Aber students?
Meet as many people as possible - participate and get involved with societies and sports at the SU. Many of these students will become lifelong friends and professional partners in years to come. Networking is invaluable so start now at Aber!