Rima Dapous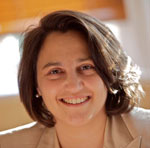 Rima Dapous graduated from Aber with a joint degree in English and French in 1993.
Rima writes:
After my BA in English Literature and French Studies in Aberystwyth in 1993, I went up to Oxford to continue with my studies and completed my MPhil in European Literature in 1995 followed by a DPhil in French Literature in 1999.
Following my studies, I worked as an intern for the European Commission (DG Education and Culture). This led me to embark on a career in Higher Education Management. My first job in the HE sector - as the Executive Assistant to the President of Frankfurt University this coincided with momentous HE reforms in Europe generally and in Germany in particular. This made for a rewarding job experience and an interest in HE politics which has continued to this day.
Subsequently, I worked in research and postgraduate teaching institutions in Germany and the UK respectively, including as Programme Director at the Reuters Institute for the Study of Journalism at the University of Oxford.
Currently, I am Head of Education and Science at the British Council in Berlin, Germany.