Ricardo Espirito Santo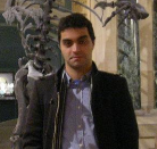 Ricardo graduated from Aber with a degree in Internet Computing in 2006.
What do you remember most about your time at Aber?
During my studies I remember that Aber was always more than generous with its advanced resources available for students, the libraries being immensely interesting and comprehensive, with a good working environment everywhere. On the social side I remember the hyper-active atmosphere of Aber's night life, its societies and clubs such as the climbing and computer science, and the frequent parties that took place everywhere. I keep the seafront and the walks on the sand and beach rocks as one of my favourite memories from Aber.
What are you doing now career-wise and how has your Aber degree helped?
I have been developing my career as a software developer in Portugal since before finishing my degree. Aberystwyth's education has proven to be invaluable in preparing me for daily life's challenges and giving me an excellent grounding in this field.
What advice would you have for a student doing your course now?
Embrace what Aber has to offer and your expectations will be constantly exceeded. Enjoy the degree as much as you can. Always pick your modules balancing what you should do with what you can do.
Make good friends and keep them for life. Travel and learn.